Dark Fantasy Action VR, Inferno: Deathfield Will Take You to a Puzzling Medieval Kingdom
Press Release
-
updated: Jan 10, 2018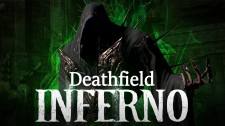 Seoul, South Korea, January 10, 2018 (Newswire.com) - Inferno: Deathfield, dark fantasy action VR game developed specifically for virtual reality on HTC Vive has shared its details on Steam. As the official publisher, YJM Games stated that the game will eventually hit Steam Early Access soon on Q1 2018. The middle-ages theme and combat style of the game are designed to such an extent that it will fit the taste of various VR gamers around the world. Quick reactions will also be needed during the battle as fast-paced action is one of the core elements of the game.
Check out Inferno: Deathfield trailer on Steam Coming Soon page: http://store.steampowered.com/app/683150​
Inferno: Deathfield will have two different gameplay modes: Story Mode and Infinity Mode. In the game, you will be fighting off waves of demons using various weapons such as sword, crossbows, and shield. On top of those, you can utilize two different skills that will be helpful during the battle: Time Slow and Dodge Slow. Time Slow will slow down everything around you whereas Dodge Slow is a combination of dash movement and Time Slow, allowing you to move around and dodge the enemies' fire as you kill them. Explore all possible routes around and inside the maze-like castle and find various items that will aid you during the game.
Inferno: Deathfield was first introduced earlier last year and received positive responses from various media. Developed using Unreal Engine 4, the game will totally give players the best impression of VR games with its high-quality and smooth graphic.
About YJM Games
Since 2011, YJM Games has been an active participant within the games industry. It is currently preparing a line-up of VR titles spanning the most popular content distribution platforms, with the goal of introducing consumers worldwide to new VR experiences. YJM Games is a member of VRFund (Venture Reality Fund) and is looking for VR studios for potential cooperation. To learn more, visit http://yjmgames.com.
YJM Games Twitter account: www.twitter.com/YJMGames
​Download Inferno: Deathfield Press Kit.
Press Contact
YJM Games
+82 70 4759 3771
adeline@yjmgames.com
Source: YJM Games
Share:
---
Categories: Video Games, Online Gaming
Tags: Action, Adventure, Fantasy, FPS, Games, HTC Vive, PC, RPG, Steam, Virtual Reality, VR
---