Dan Kimball Joins Spectrum Equity as Firm's First Chief Marketing Officer
Press Release
•
Apr 24, 2023
Former Yelp executive will advise portfolio companies on all facets of marketing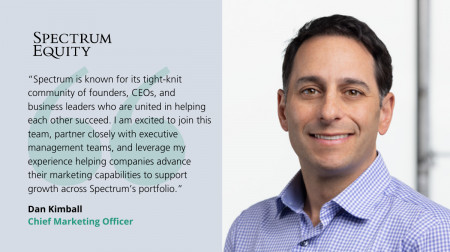 SAN FRANCISCO, April 24, 2023 (Newswire.com) - Dan Kimball joins Spectrum Equity, a leading growth equity firm, as the firm's first Chief Marketing Officer. Kimball brings decades of marketing leadership experience at companies ranging in size from early-stage startups to multi-billion-dollar industry leaders. He was most recently the SVP of Marketing at Yelp and previously the SVP of Global Marketing at Eventbrite and VP of Marketing at Costar Group.
"Spectrum's portfolio consists of internet-based software and information businesses spanning a wide range of end markets across consumer, SMB and enterprise customers. We're thrilled to have someone of Dan's deep expertise as an expert resource for our management teams as they build and scale their marketing capabilities," said Ben Spero, Managing Director at Spectrum.
In addition to building and scaling marketing teams, strategy, and systems, Kimball's experience includes developing self-service customer acquisition and product-led growth engines; creating pricing, packaging, and product merchandising frameworks; and devising regional and global growth strategies. At Spectrum, he will advise portfolio companies on all facets of marketing and work closely with the investment team on due diligence.
Kimball joins Spectrum's growing internal team of functional leaders across talent (Coley Florance), finance (Brian Regan), legal (Leah Palmer), tax (Carolina Picazo) and technology (Sanjay Tiwary). These executives provide advisory support, due diligence assistance and strategic guidance to portfolio companies. Collectively, they bring a wide range of operational expertise in software and technology-focused companies to the Spectrum portfolio.
"Spectrum is known for its tight-knit community of founders, CEOs, and business leaders who are united in helping each other succeed," said Kimball. "I am excited to join this team, partner closely with executive management teams, and leverage my experience helping companies advance their marketing capabilities to support growth across Spectrum's portfolio."
About Spectrum Equity
Spectrum Equity is a leading growth equity firm providing capital and strategic support to innovative companies in the information economy. Since 1994, the firm has partnered with proven entrepreneurs and management teams to build long-term value in market-leading internet-enabled software and data services companies. Representative investments include Ancestry, Bats Global Markets, Definitive Healthcare, GoodRx, Grubhub, Lucid, Lynda.com, SurveyMonkey and Verafin. For more information, including a complete list of portfolio investments, visit www.spectrumequity.com.
Source: Spectrum Equity