Dale M. Walsh's New Book, 'Wesley's Adventures: Mystery Stories' is an Enjoyable Tale of the Titular Character's Epic and Mysterious Adventures
Recent release "Wesley's Adventures: Mystery Stories" from Covenant Books author Dale M. Walsh is a beautifully written three-part journey that delves into uncovering puzzles and learning lessons along the way.
Press Release
-
updated: Jul 9, 2018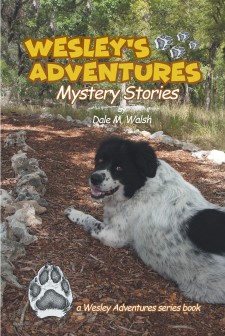 BOERNE, Texas, July 9, 2018 (Newswire.com) - Dale M. Walsh, a passionate author with a telecommunications engineering background and with interests in singing choral music and sailing the Caribbean, Adriatic Sea, and French Polynesia, has completed his new book, "Wesley's Adventures: Mystery Stories": a highly amusing narrative of Wesley's riveting circumstances, all with a touch of canine intrigue and mystery.
As Wesley lay pondering the brown-marked egg affair, he heard rustling around the bushes off to the right of the patio beneath the sitting room windows. At first, he rolled his
eyes in that direction. As the sounds continued, he sprang to his feet and eased down the patio to investigate. As a pup, Wesley would have charged forward and immediately confronted what was there. But experience now made him more cautious. Poking his head around the corner at the end of the patio, he sniffed the air and scanned the bushes for any sign of movement. Seeing nothing, he eased off the patio and along the sitting room wall and peeked around the next corner. By then, Wesley was fairly sure who was there. Sure enough, there was Mr. Armadillo pushing his nose down in Gramme's flower bed looking for earthworms and grubs under the mulch.
Published by Covenant Books of Murrells Inlet, South Carolina, Dale M. Walsh's new book is the author's fun and enticing way of looking at life through the eyes of his beloved pet dog—the sole inspiration for this amazing masterpiece.
Everyone loves a mystery, even Wesley. Three mystery adventures are presented here. They all make for great fun.
In the first mystery story, "Wesley meets a Mysterious Stranger," an encounter that turns out poorly for Wesley. Who is that mysterious stranger?
The second story, "Wesley and the Mystery Egg Affair," begins when trouble befalls a couple of Wesley's bird friends. An egg is missing replaced by a different egg. Wesley is the sleuth in this adventure, seeking to learn who stole the missing egg and why. There's more to this case than meets the eye.
In "Wesley and the Night Visitor" mystery adventure, a crime is committed late at night. Food is missing from Wesley's dish. Who is this nighttime thief? Wesley, joined by a couple friends, set out to uncover clues the thief unintentionally leaves behind. Eventually, these clues point to an astonishing solution.
Readers can purchase "Wesley's Adventures: Mystery Stories" at bookstores everywhere, or online at the Apple iTunes store, Amazon, or Barnes and Noble.
Covenant Books is an international Christian owned and operated publishing house based in Murrells Inlet, South Carolina. Covenant Books specializes in all genres of work which appeal to the Christian market. For additional information or media inquiries, contact Covenant Books at 843-507-8373.
Source: Covenant Books
---
Categories: Books
Tags: "Wesley's Adventures: Mystery Stories, author, Covenant Books, Dale M. Walsh
---