CryptoWi (WiC) Introduces a Unique Monetized WiFi Sharing Application
Press Release
-
updated: Aug 14, 2017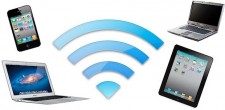 Toronto, Canada, August 14, 2017 (Newswire.com) - CryptoWi (WiC) introduces a unique application that monetizes WiFi sharing. Every day, many millions of people around the globe share their internet connections without realizing the monetary benefit they can gain from it. CryptoWi is an app that solves this by letting users sell/rent their internet connections and earn Wi Coins (WiC) which is the only mode of payment in the app.
The developers aim to tackle two major problems. Firstly, the problem of attaining easy WiFi accessibility on the go and secondly the problem of cryptocurrencies having no real use other than speculation. With WiC, users get a real world use case for cryptocurrencies and also a financial incentive to use it. You can have a look at the 2 minute WiC explainer video here: https://youtu.be/dWiB_OMk0Ys
With potentially over 50 million user base ready, CryptoWi aims to revolutionize the WiFi sharing industry and make WiC a household name.
CryptoWi is offering an ICO with the pre-sale commencing on August 15. For more information visit: https://www.cryptowi.com/token-sale. The token sale has a low maximum cap of only 1.48 million USD with a starting price of $0.008 (under 1 cent). Any tokens unsold in the pre-sale will be sold in the Token Sale that will be hosted by WiC's partner exchange Livecoin.net (average daily exchange volume more than 10 million USD).
The developers of WiC believe their crypto has advantages over many current ICOs because they have already moved forward with their development and have a real life working application as opposed to theoretical promises many other ICO's suffer from. A working demo of the app can be seen here: https://www.youtube.com/watch?v=aMzL1KDT0Kw
Name: Wi Coin (WiC)
Website: https://www.cryptowi.com
Date of Presale: August 15, 2017 at 4:00 PM EST to August 31, 2017 
Amount of Coins for sale: 90 Million (90,000,000)
Currency accepted: BTC, ETH, LTC
Where to buy: https://www.cryptowi.com/token-sale
Date of Token Sale: September 1, 2017 to October 15, 2017
Currency accepted: BTC/ETH
Where to buy: https://www.livecoin.net
Buying info:
TOTAL MAX CAP - $1.48 Million
Stage 1 investment cap = $120,000 (Price $0.008/WiC)
Stage 2 investment cap = $240,000 (Price $0.012/WiC)
Stage 3 investment cap = $450,000 (Price $0.018/WiC)
Stage 4 investment cap = $550,000 (Price $0.022/WiC)
Stage 5 investment cap = $120,000 (Price $0.024/WiC)
Writer: Gerry Barja​​ - ICOlert.com
Source: CryptoWi (WiC)
Share:
---
Categories: Business Technology, Internet, Cryptocurrency
Tags: bitcoin, cryptocurrency, ICO
---