Cruvita.com Ranks the Top 20 Elementary Schools for Homebuyers in Washtenaw County, MI
The company is expanding its reach to a growing list of Michigan public schools with its unique and intuitive grading algorithm. Hosted real estate listings are also available for homebuyers to review in the Ann Arbor Metropolitan area.
Press Release
-
Mar 9, 2016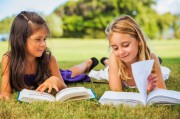 Ann Arbor, MI, March 9, 2016 (Newswire.com) - Cruvita.com, a leader in the online school ranking and real estate listing space, has released its rankings of Washtenaw County, Michigan public elementary schools. Among the top 20 schools in the county, Ann Arbor schools are in thirteen of the spots. Martin Luther King Elementary School is at the top of the list and the Angell School comes in second place.
Every parent wants the best education possible for their child, and they have the power to provide it by accessing the simple and intuitive grading system offered by Cruvita.com. Residents of the Ann Arbor, Michigan area can use this information to help them make better decisions on where to raise their school-age children.
The Cruvita school grading algorithm has ranked and scored more than 85,000 public schools across the country, using a variety of important factors drawn from the schools, home values and income levels in the area. To make it even easier for users to quickly identify school quality, Cruvita recently released a letter-based grade similar to the school grading system we are all familiar with.
"We are so pleased to be in the Ann Arbor, Michigan market. The real estate professionals have been a joy to work with," says Cruvita.com Co-Founder Ariel Mordetsky. "Using the tools that Cruvita offers is truly beneficial to families who are looking to buy a home, even parents who are looking to rent can factor in the quality of area schools."
Cruvita.com was also developed as a tool for real estate professionals across the country. They can research school quality and home listings to better serve their clientèle. But real estate agents can also grow their business by partnering with Cruvita, an arrangement that includes exclusive hosting of their home listings and contact information.
"In this business, one of the first things I hear from my buyer is "We are interested in living within this school district," says Middy Matthews from Keller Williams in Ann Arbor, MI. "In Ann Arbor we pride ourselves on our schools and our teachers. While every school and community in the area are exceptional, where the kids play and how they get to school is critical. Our parents are involved and interested in making childhood a unique and magical experience.  As a Realtor, I certainly understand the need to make sure your vision is actuated.  When my clients lead in with a choice in schools, I immediately send them to Cruvita to learn more and start the home search process.  Cruvita has been a time saver and one stop research tool for my clients from schools to homes." 
To see the full list of ranked elementary schools, please read: Top 20 Elementary Schools for Homebuyers in Washtenaw County, MI. If you would like to see all the schools, and real estate listings available in Washtenaw County, MI just click here.  
About Cruvita
Founded in 2014, Cruvita.com connects families with the best homes in the best school districts with its Cruvita™ School Score. This custom algorithm brings together a number of important factors to determine which schools get the highest grade, and then users can see the homes that are for sale in the school district of their choice.
---
Categories: Educational Technology, Real Estate, Public Schools
Tags: ann arbor, michigan, real estate, school scores, washtenaw
---