Creed Dominates but Falls Short in Kentucky -- Dover Up Next
Sheldon "The Showstopper" Creed, had undeniably his best day in a stock car on pavement…
Press Release
-
updated: Sep 28, 2017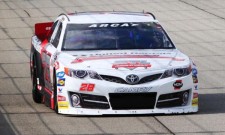 ALPINE, Calif., September 28, 2017 (Newswire.com) - Sheldon "The Showstopper" Creed, had undeniably his best day in a stock car on pavement. Last Friday, at Kentucky Speedway, was the Crosley Brands 150 ARCA Racing Series presented by Menards event, but circumstances once again kept his #28 United Rentals/A.M. Ortega/RTL Leasing MDM Motorsports Toyota out of Victory Lane.
Creed's MDM Toyota Camry was very fast right off the truck on Wednesday for ARCA's pre-race open test session. Despite never having been to the 1.5-mile Kentucky tri-oval previously, Creed finished the day at the top of the speed charts. The trend would continue into the one official practice on Friday with Creed finishing the session in first place and a slim speed advantage over MDM teammate Zane Smith.
The Friday afternoon qualifying session would see Creed grab his first career ARCA General Tire Pole award; again, topping Zane Smith by a slim margin, with a 29.301 lap to Smith's 29.316. Creed's pole speed was just four-hundredths of a second off Chase Briscoe's lap record of 29.261, set in 2016.
When the green flag dropped on Friday evening for the 100-lap Crosley 150, Creed jumped out to an early lead, and could manage his lead handily despite a scrape with a lapped car that came down on Creed as he was passing, sending the lapper into a spin. Creed would cycle back to the front following several yellow flag pit stops, until a problem with the jack on his last stop saw him lose precious time and subsequently several positions on track. He would take the restart from 5th position but almost immediately jumped back up to 2nd place behind series leader Austin Theriault.
A final late race caution and restart with just 2 laps to go saw Creed start on the outside of Theriault, who had the preferred racing line. Creed would lose some ground to Theriault on the restart but gained most of it back. He still had a shot to win on the last lap, but he knew he needed to get alongside Theriault's #52 to have any chance to take his first ARCA Series win. It very nearly worked out, but as Creed took the final corner wide open, he slipped up off the racing groove into the gray and brushed the wall, letting a charging Zane Smith by for second place. Creed would finish 3rd for his 5th top-five in the last six ARCA races. Creed also set the fastest race lap (29.873) and led the most laps (68), proving just how dominant his MDM Toyota was.
Sheldon Creed on Kentucky:
"I had a great race car to work with. We pretty much dominated the race, but the cautions just kept coming. That's how it goes. We had a really good race car. I could conserve a lot and go when I needed to. Wish we could have gotten alongside the 52 to change up his line at the end. The restarts were crazy. I got kicked sideways there at the end. The MDM guys gave me the car to win with, and that's all you can ask for. I really like the hard compound that General Tire brought. It didn't fall off, and it got faster. I'm looking forward to the ARCA season finale at Kansas in a few weeks. We'll be a threat for the win there."
Creed's next race will be the NASCAR K&N Pro Series East, National Fallen Firefighters Foundation 125 at Dover International Speedway this Friday, September 29. The race will be the K&N Pro Series East season finale, and Creed's first K&N Pro Series race since New Hampshire Motor Speedway in July, where he took home a 5th place finish. Creed will be back behind the wheel of the #40 United Rentals/A.M. Ortega/RTL Leasing MDM Motorsports Toyota at Dover.
Sheldon Creed on Dover:
"Dover is one of those tracks that you hear a lot about because of how unique it is. I'm really looking forward to the opportunity to race at a track with so much history. My MDM Motorsports team has been on fire lately. We have been so fast. I know our time is coming, and I hope it is this weekend at Dover."
The NASCAR K&N Pro Series East National Fallen Firefighters Foundation 125 is scheduled for Friday, Sept. 29, at 5 p.m. ET. It will air on NBCSN, Friday, Oct. 6 at 10:30 p.m. ET.
Also of note:
Sheldon Creed has a brand-new website, developed in conjunction with Race Face Brand Development. It features the latest news on Sheldon's career, as well as lots of great photos, videos, and radio interviews. Check it out at www.sheldoncreedracing.com.
About Sheldon Creed:
Sheldon Creed, nicknamed "The Showstopper" began racing BMX at age 3 and won 2 motocross championships at age 6. He has won at least one championship every year since 2008.
Career Highlights:
•           25 Lucas Oil Off Road Racing Series 1st Place Finishes
•           5 Championship Off Road Racing Series 1st Place Finishes
•           2015 – X-Games Gold Medalist in Stadium Super Trucks
•           2015 & 2016 Speed Energy Stadium Super Trucks Champion
•           2016 - NASCAR Camping World Truck Series, ARCA Series & the world-famous Dakar Rally
•           2017 - Competing in the ARCA Series, NASCAR K&N Pro Series East, K&N Pro Series West,            NASCAR Xfinity Series, Trans Am Series, and Stadium Super Trucks Series
Media Contact: Brian Bonner       Email: bonner@brmrace.com       Ph: (978) 361-5295
Source: MyNetworkOne on behalf of Sheldon Creed Racing
Share:
---
Categories: Sports News, Car Racing, Sports Events
Tags: AM Ortega Construction, Dover International Speedway, Kentucky Speedway, MDM Motorsports, Menards, NASCAR ARCA Racing Series, Sheldon Creed, Stadium Super Trucks, The Showstopper, United Rentals
---