Courage Growth Partners Commits as Premier Sponsor of the 6th Annual Angel Capital Expo
Courage Growth Partners has been a Sponsor of Keiretsu Forum Mid-Atlantic for six years. This year, Dr. Louise Yochee Klein, Co-Founder will also serve as moderator for an important panel conversation of industry leaders.
Press Release
-
updated: Oct 10, 2018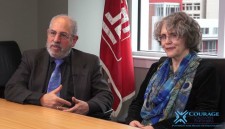 PHILADELPHIA, October 10, 2018 (Newswire.com) - Keiretsu Forum Mid-Atlantic announces that Courage Growth Partners is a premier sponsor of this year's Angel Capital Expo to be held on Wednesday, Oct. 17 at the Philadelphia Union League. The Angel Capital Expo is the region's highest-quality gathering of angel investors and entrepreneurs seeking funding capital to grow their business.
"Courage Growth Partners views this sponsorship as aligned with their work to build the skills of high-potential innovation leaders," says Dr. Louise Yochee Klein, Principal. "The Angel Capital Expo provides a unique opportunity for angel investors to see how Keiretsu Forum does such a great job for entrepreneurs who pass their due diligence process and why it's such a great community for angel investors to learn and profit with one another."
Dr. Yochee-Klein will also moderate an important panel discussion during Expo -'Jockey's Not Horses: Getting Funding In Today's Ecosystem.' The panel experts will tap into the most important challenges and opportunities facing today's emerging businesses.
The expo will feature a dozen pre-screened presentations from early-stage companies in Technology, Life Sciences, Green Energy, and Consumer Products sectors. "With over 250 accredited angel investors, sponsors, and presenters in attendance, Expo is one of the region's most important event for emerging business," says Howard Lubert, Keiretsu Forum Mid-Atlantic Co-Founder.
For more information in the Angel Capital Expo, visit http://keiretsuforum-midatlantic.com/angel-capital-expo
Source: Keiretsu Forum Mid-Atlantic
---
Categories: Venture Funding
Tags: Angel Capital, Angel Investing, Angel Investment, Emerging Business, FinTech, Life Sciences, Startup, Technology, Venture Capital
---