Costa Rica Kicks Off Their Human Rights Campaign
In their farewell game before leaving for the FIFA games in Russia, the Costa Rica National Soccer Team launched a campaign to make human rights a fact throughout the country.
Press Release
-
updated: Jun 11, 2018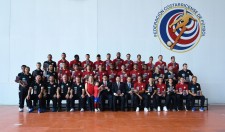 SAN JOSE, Costa Rica, June 11, 2018 (Newswire.com) - The national soccer team not only trounced Northern Ireland 3-0 June 3, they also scored a winning goal as humanitarians. At the game, the team launched its partnership with Youth for Human Rights Costa Rica and its campaign to bring human rights to life throughout the country.
The team handed out 28,000 copies of their custom publication of the Youth for Human Rights booklet What are Human Rights? The booklet features the team on the cover. Inside, individual players, coaching staff and women's national team players promote each of the 30 articles of the Universal Declaration of Human Rights, the world's premier human rights document adopted by the United Nations in 1948.
Although Costa Rica has one of the highest standards of living in the Americas, the team has adopted this campaign because the country still suffers from many human rights violations, with poverty and neglect affecting thousands of families.
Nine percent of boys age 5-14 work in agriculture or as street vendors, 36,000 are orphans and at risk of being pulled into child prostitution, drug abuse and gang violence.
Costa Rica is a source, transit and destination country for men, women and children subject to sex trafficking and forced labor.
Domestic violence in the country is on the rise.
Costa Rica has the second-highest number of bullying cases in Latin America.
At a press conference at their headquarters June 1, Costa Rica National Soccer Federation signed a partnership with Youth for Human Rights.
President Carlos Alvarado attended to endorse the campaign and send the team off to Russia for the FIFA games.
He was joined by  First Lady Claudia Dobles Camargo, Russian Ambassador to Costa Rica Vladimir T. Kuraev, President of the National Institute for Women Patricia Mora, Youth for Human Rights Ambassador for Costa Rica Suzanne Fischel, President of the Costa Rica Football Federation Rodolfo Villalobos, General Secretary of the Costa Rica Football Federation Margarita Echeverría and President of Youth for Human Rights Costa Rica Marco Zúñiga Vargas.
Rodolfo Villalobos explained that the National Team has published this booklet to commemorate the 70th anniversary of the Universal Declaration of Human Rights: "We are very proud and grateful to Youth for Human Rights for allowing us to use football as a tool for social transformation."
Marco Zuñiga, president of Youth for Human Rights Costa Rica, said: "Ninety percent of the world population does not know the 30 Universal Human Rights, and for this reason we greatly appreciate the care and commitment of our beloved team, as we are convinced that education is the first step to creating a culture of respect and dignity for all people."
The goal of Youth for Human Rights International (YHRI), with which Youth for Human Rights Costa Rica is affiliated, is to inspire young people to become advocates of tolerance and peace, educating them about the United Nations Universal Declaration of Human Rights. Founded in 2001, YHRI has grown into a global movement, which includes hundreds of groups, clubs and chapters around the world.
Source: Youth for Human Rights International
Share:
---
Categories: Soccer
Tags: Costa Rica Football Association, FIFA, football, soccer, Universal Declaration of Human Rights, Youth for Human Rights
---