Combating Bullying of Mexico City Special Needs Kids
Press Release
•
updated: Jan 16, 2018
Youth for Human Rights partners with Mexico City Department of Special Education to make schools safe for children. Educators train on human rights curriculum to reach more than one million youths.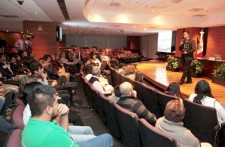 MEXICO CITY, January 16, 2018 (Newswire.com) - Bullying has reached alarming proportions at all levels of the Mexican educational system. Intimidation or verbal abuse (bullying) among students is more prevalent in Mexico than among the 34 countries evaluated, according to a 2014 report by the Organization for Economic Development and Cooperation (OECD), Mexican Secretariat of Public Education (SEP) and Mexico's National Institute for Educational Evaluation (INEE).
The Director of Special Education of the Mexico Federal District (Mexico City) Department of Education, in partnership with Youth for Human Rights (YHR), has trained 700 supervisors on the YHR curriculum in preparation for implementing their human rights program in schools.
Bystanders who intervene on behalf of young people being bullied make a huge difference.
These supervisors are now overseeing the training of 3,500 teachers in 3,007 schools. An additional 380 social workers are delivering human rights education under the auspices of the Ministry of Education. All training is geared to educate Mexico youth to respect and defend the rights of others.
Educators in many countries report Youth For Human Rights educational materials change the attitudes that underlie bullying. Students read a simple booklet on the 30 articles of the Universal Declaration of Human Rights, which makes these rights very understandable. Public service announcements, The Story of Human Rights documentary and UNITED for Human Rights music video bring the concepts to life.
Young people who understand the articles of the Universal Declaration of Human Rights (UDHR) stand up for the rights of other children rather than standing by or supporting bullies in their actions. According to StopBullying.gov, "bystanders who intervene on behalf of young people being bullied make a huge difference."
Among the articles of the Universal Declaration of Human Rights as described in the YHR What Are Human Rights? booklet that directly apply to the rights infringed by bullying are:
Article 1. We Are All Born Free & Equal. We are all born free. We all have our own thoughts and ideas. We should all be treated in the same way.
Article 2. Don't Discriminate. These rights belong to everybody, whatever our differences.
Article 3. The Right to Life. We all have the right to life, and to live in freedom and safety.
Article 8. Your Human Rights Are Protected by Law. We can all ask for the law to help us when we are not treated fairly.
Article 12. The Right to Privacy. Nobody should try to harm our good name. Nobody has the right to come into our home, open our letters, or bother us or our family without a good reason.
Article 17. The Right to Your Own Things. Everyone has the right to own things or share them. Nobody should take our things from us without a good reason.
Educators training on these materials are eager to put them to use. One brought up that they have given him hope and made him optimistic about making headway on this issue.
One principal said she had been trying to come up with a solution to the problem for months and the lecture she attended was a "Eureka!" moment as she now knows she has the solution.
United for Human Rights, and its program for young people, Youth for Human Rights, is an international, not-for-profit organization dedicated to implementing the Universal Declaration of Human Rights at local, regional, national and international levels. United for Human Rights membership is comprised of individuals, educators, and groups throughout the world, working to make human rights a reality. The purpose of YHRI is to inspire youth to become advocates for tolerance and peace by educating them on the United Nations Universal Declaration of Human Rights. Hundreds of young people and their advisers have formed YHRI groups, clubs and chapters in countries around the world.
Source: Youth for Human Rights International
Related Media