Cognitus Announces Partnership With Tricentis to Enhance SAP Testing Services
Press Release
•
May 23, 2023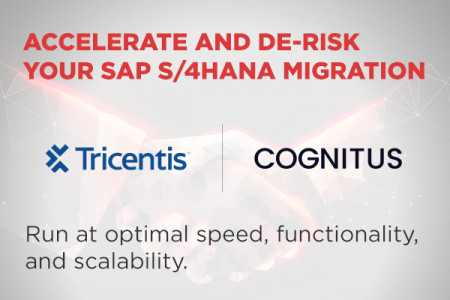 DALLAS, May 23, 2023 (Newswire.com) - Cognitus, a leading provider of SAP implementation and consulting services, is pleased to announce its partnership with Tricentis, a global leader in continuous testing and quality engineering.
The partnership between Cognitus and Tricentis aims to accelerate migration to the Cloud and ensure that customers get the most out of their SAP solutions:
De-risk SAP Implementation: enable digital transformation by reducing business risk associated with application changes to create better testing processes
SAP Test Optimization: end-to-end continuous automated testing solutions guarantee that the customer's SAP solutions will perform at optimal speed, functionality, and scalability.
Accelerate Cloud Adoption: accelerate the path to the cloud through AI-driven impact assessments, reusable test automation, and end-to-end continuous testing
"We are very excited about our partnership with Tricentis and the opportunities it will bring for our customers," said Jeff Olsen, DSC Lead and Partner at Cognitus. "By working together, we strive to accelerate the adoption of SAP software, ensure customers get the most out of their SAP solutions and considerably lower the costs associated with continuous testing of their cloud and hybrid landscapes."
This partnership offers customers a range of testing services, including risk-based, continuous, and automated testing. Using Tricentis Tosca and Cognitus' SAP expertise, customers can optimize their testing processes and improve SAP implementation quality.
"As the world continues its rapid shift to the cloud, organizations still testing manually are experiencing challenges with speed and inefficiency, underscoring the importance of continuous automated testing and strategic consulting to steward success across their SAP applications and E2E business processes," said VJ Kumar, SVP and GM, Tricentis. "We are excited to partner with Cognitus, combining their deep domain expertise across SAP's broad portfolio of leading enterprise applications and our innovative quality engineering solutions, to ensure faster, higher quality, and lower cost application delivery."
Join the experts from Cognitus and Tricentis on June 14 at 11 a.m. EDT to learn how this partnership will help better optimize your SAP testing processes and align business risk with critical business operations. Register for the webinar here.
About Cognitus
Cognitus is an SAP Gold Partner that implements, deploys, sells, and supports SAP solutions, in addition to building apps in the SAP ecosystem, through its global network. They are a world leader in SAP S/4HANA with its Gallop portfolio focusing on S/4HANA assessments, factory delivered migrations, and guided outcomes for specific business process improvements.
About Tricentis
Tricentis is a global leader in continuous testing and quality engineering. The Tricentis AI-based, continuous testing portfolio of products provides a new and fundamentally different way to perform software testing. An approach that's totally automated, fully codeless, and intelligently driven by AI. It addresses both agile development and complex enterprise apps, enabling enterprises to accelerate their digital transformation by dramatically increasing software release speed, reducing costs, and improving software quality. Tricentis is widely credited for reinventing software testing for DevOps, cloud, and enterprise applications.
For press only:
Meghan Demo
Cognitus
Source: Cognitus