Christopher J. Fry's New Book "This is Your Life?" is an Enthralling Work Challenging the Premise That People Are Mechanical Beings Living in a Mechanical World.
"This is Your Life?" written by author Christopher J. Fry is an engrossing book challenging the premise that people are mechanical beings living in a mechanical world. The author aims to show readers that by reclaiming liberty and understanding the spiritual aspect to life people can experience true life.
Press Release
-
updated: Dec 15, 2017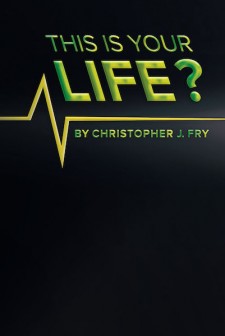 Visalia, CA, December 15, 2017 (Newswire.com) - "This is Your Life?" an enthralling work challenging the premise that people are mechanical beings living in a mechanical world. "This is Your Life?" is the creation of published author, Christopher J. Fry, a husband and father, rescued sinner, deep thinker and voracious reader. 
Fry shares, "This book challenges the premise that people are mechanical beings living in a mechanical world. Contrary to the popular cultural voice that encourages assimilation, people are tired, broken, and poor from living in this Marxist socialist paradise. If society can reclaim a true definition of liberty, perhaps a Modern Reformation can be achieved. The human experience we call life is mind, body and spirit. If any one of these is missing, we die. Our culture has been trying to convince us for decades that we are mind and body, but without any spirit. People have been treated as if they were automobiles to be driven, manipulated, and finally discarded when their benefits run out. The results of this philosophy have been disastrous. The fruits of Marxist philosophy today are the same as they have been throughout history: to lie, steal, kill, and destroy, leaves death in its wake and itself ultimately self-destructs in a suicidal fit of rage. A Christian philosophy will emerge out of the ash heap, hopefully sooner rather than later. We must recognize that every human being is different than every other person who has ever been. We are like a microcosm, an entire universe contained in this human body. The spiritual realm is more real than the physical realm and twice as dangerous. Unless we wish to continue living like a zombie, we must understand the spiritual aspect in order to experience true life."
He concludes stating, "We all have an appointment with Revelation 20:12, and will be judged by what is written in the books of our life stories. Each day is another page in our book. The good, the bad and the ugly, it is all there. There was a television show from the 1960's and '70's where the host always had a book in his hand. They would present events and people from the focus person's past and things on their life journey that helped make them who they were. This is how one might imagine it could be when we stand before the Lord."
Readers can purchase "This is Your Life?" at bookstores everywhere, or online at the Apple iTunes Store, Amazon, Kobo or Barnes and Noble.
For additional information on this recent publication, contact Covenant Books at 843-507-8373.
Source: Covenant Books
Share:
---
Categories: Books, Religion, Arts and Entertainment
Tags: "This is Your Life?", Christopher J. Fry, Covenant Books
---