Chocolate Lovers' Special at Texas State Railroad Kicks Off the 2018 Season
Press Release
•
updated: Jan 2, 2018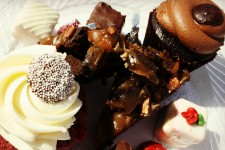 PALESTINE & RUSK, Texas, January 2, 2018 (Newswire.com) - In the company of Cupid, hearts, roses, doves and lovebirds, chocolate is probably the most iconic symbol of Valentine's Day. Everyone knows that "everything is better in Texas" and that includes the romance of chocolate Texas rail-style. Riding in a vintage railcar while savoring the rich flavors of mouthwatering desserts is a sweet way to inaugurate the season aboard the Texas State Railroad. The first Chocolate Lovers' Special rolls out of the Rusk station on Saturday, Feb. 10, with another excursion following on Sunday, Feb. 11.
Passengers will be indulged with a decadent array of Texas-style desserts while riding the rails through the historic hill county of the Piney Woods. One of the inspiring chocolate delicacies on the menu is the Railroad's very own version of the popular "Texas Sheet Cake," described by noted New York-based travel, fashion and active lifestyle writer Jillian Downer as "the little black dress of sheet cakes."
It is hard to imagine another food that evokes a craving equal to that of chocolate. The gooey, dark, rich sweet has been branded with many names including xocoatl, jocolatte and chockelet, but despite its title, from ancient civilization to the cyber-powered 21st-century society, one common thread remains: chocolate is a heavenly treat that is in a category all by itself. When words are inadequate to express one's feelings for another, chocolate will say it all.
The four-hour, round-trip excursion between Palestine and Rusk includes a short layover at the beautifully renovated historic Palestine depot. On the return trip, snuggling with a sweetie in a luxurious Presidential car is bound to inspire sweet talk in rhythm to the wheels on the rails. Just as universal as chocolate is to romance, so is classic rail travel. Texas State Railroad is a master at blending the two romances into one classic adventure.
This quintessential day trip, only a few hours from the metropolitan communities of Dallas and Houston, is designated "The Official Railroad of Texas."
Visit www.TexasStateRailroad.net or call 855-632-7729 to book.
Come enjoy a sweet Valentine journey with us!
Contact: Teresa Propeck
Reservations: 855-632-7729
Phone: 623-374-3185
www.TexasStateRailroad.net
teresa@texasstaterailroad.net
Source: Texas State Railroad
Related Media