Cheech & Chong Perform to Packed Crowd on Maui, Brian Evans Opens
Legendary comedy duo Cheech & Chong performed a concert at The Lahaina Civic Center Amphitheater as part of The Maui Celebrity Series on Maui, Hawaii. Series creator Brian Evans celebrated the 30th show by performing as the opening act, and having a host of comedians and musicians take to the stage.
Press Release
-
May 2, 2016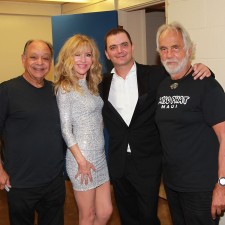 Lahaina, Hawaii, May 2, 2016 (Newswire.com) - The Maui Celebrity Series did it again when Legendary comedians Cheech & Chong hit the stage this past Saturday night at The Lahaina Civic Center Amphitheater in Lahaina, Hawaii on the island of Maui.
With nine albums released from 1972 through 1985, Cheech and Chong were nominated for four Grammy Awards, winning the Grammy Award for Best Comedy Album with their third album, Los Cochinos, released in 1973. Big Bambu, their second album, was the biggest selling comedy record of all time in 1972 and remained so for many years. Their stunningly successful comedy streak transitioned to film in 1978 with their first movie, "Up In Smoke," the highest grossing comedy of 1978, topping $100 million at the box office. Cheech and Chong co-wrote and starred in a total of eight feature films together, all directed by Chong. Shelby Chong also dazzled the audience on Maui.
Series creator Brian Evans performed as the opening act, performing such hits as "At Fenway" and "Creature" to the videos themselves as they were propelled onto video screens before the massive audience. His current single, "Here You Come Again," debuted at #6 on the DMDS charts.
"This was the 30th show that The Maui Celebrity Series has brought in," says Evans. "We really had a great time, and Cheech and Tommy were spectacular. They had that crowd in the palm of their hands. It was an awesome sight to see."
Comedian Chino LaForge also appeared, along with comics King Martin, Vince Foti, Cool Hand Luke, Corky Gardner, Brian Michaels, and musician Brandon Dune.
Academy Award winner Jeff Bridges performed along with Evans in January, and William Shatner prior to that. David Spade, Roseanne Barr, Mos Def, Bob Saget, Rob Schneider, and Louie Anderson have also appeared. 
Evans, also an author, released three novels in the past year including "Horrorscope," "The Funny Robbers," and this month, "Savannah," co-written with Theodore Hamby.
"I have had a great time doing this, but I won't be satisfied until we get Sir Paul McCartney here, and I have been trying," says the singer. 
The Maui Celebrity Series supports The American Sleep Apnea Association. Jeff Bridges made mention of the organization during his performance.
Source: The Maui Celebrity Series
Share:
---
Categories: A&E News, Celebrities, Arts and Entertainment
Tags: Bob Saget, Brian Evans, Cheech & Chong, Jeff Bridges, Lahaina, Maui, William Shatner
---