Charity Foundation Gives 3,000 Wheelchairs to the Underprivileged
Press Release
•
updated: Dec 19, 2018
Ehsan-Barakat Charity Foundation has provided some 3,000 wheelchairs to people with disabilities in underprivileged areas, director of the Execution of Imam Khomeini's Order said on Sunday.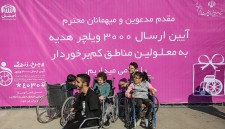 TEHRAN, Iran, December 19, 2018 (Newswire.com) - A charity foundation in Iran has provided 3,000 wheelchairs to people with disabilities in underprivileged areas across the country, an Iranian official said on Sunday.
The donation was made by Barekat-e Ehsan Foundation in a ceremony attended by Mohammad Mokhber, head of the Execution of Imam Khomeini's Order, also known as Setad.
Barekat-e Ehsan Foundation offers social services to the underprivileged to eradicate social harms and is affiliated with the Execution of Imam Khomeini's Order and Barekat Foundation, which was established on Dec. 11, 2007, in order to act as an organization to uproot deprivation, to realize economic and social empowerment and to carry out public affairs.
Speaking at the ceremony, Mokhber called on Iranian authorities to put forth every effort in order to resolve people's problems, especially disability. He said Setad's main activities are aimed to create jobs for people and economic and social empowerment of deprived people.
"Implementation of construction and infrastructure projects, providing dowry and paying for the treatment of patients with serious illnesses are among the other activities of Setad," the official noted.
He added that direct consideration of the problems, needs and adjustments of the individual cases has become a priority for Setad after the Supreme Leader of the Islamic Republic Ayatollah Khamenei emphasized the importance of such considerations.
On the donation of 3,000 wheelchairs to disabled people, Mokhber said, "Disability should not hinder progress and what we should do is to provide facilities. That's why the subject of [donating] 3,000 wheelchairs was raised and the Charkh-e Zendegi (the wheel of life) campaign was launched."
There are 450,000 physically challenged people living in Iran and some are living in financial distress and can barely afford to have wheelchairs and may even be restricted to their homes for not having wheelchairs, Mokhber regretted.
However, over the past few days, the public and other charity organizations have joined hands in providing disabled people with wheelchairs by taking part in the campaign, he remarked.
He further said the unemployment of disabled people is an important issue which needs to be addressed with determination. "I ask Barekat-e Ehsan Foundation and also Barekat Foundation to address the issue of unemployment of disabled people, which, if addressed, can, in turn, resolve their other problems as well."
Praising the high spirit of a number of young individuals who have made such goals achievable at Setad, Mokhber said, "We hope we have been able to meet the expectations of the Leader … and we offer these 3,000 wheelchairs as a gift by the Supreme Leader to people with disabilities in underprivileged areas."
Mokhber also referred to other charity activities of Setad, saying through its efforts, Setad has provided food for depraved areas of Sistan-Baluchestan Province.
He added that during last year's earthquake in Kermanshah Province, Setad was among the first organizations that immediately came to the aid of the victims of the tragic incident and provided them with food, water, medicine and other necessities.
In recent months, Barekat Foundation has also dispatched mobile medical groups to and set up clinics in some 1,000 underprivileged regions throughout the country.
The mobile health care clinics are wheel-based health care systems offering care and treatment, clinical laboratory, hospitalization and medical services to isolated and vulnerable groups with no access to health services.
The foundation has also announced that it will create over 1,000 job opportunities for the underprivileged in Lorestan province in the western part of the country by the end of the eleventh Iranian calendar month of Bahman (Feb. 20, 2019).
The job opportunities will be opened up in cities of Delfan, Poldokhtar, Koohdasht and Rumeshkan in Lorestan province, in November, the foundation said.
Source: Barakat Foundation
Related Media