Castle Connolly Releases Castle Connolly Top Black Doctors 2023
Press Release
•
Feb 22, 2023
For first time, list recognizes 114 leading black doctors in the nation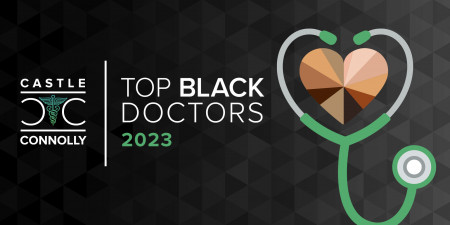 NEW YORK, February 22, 2023 (Newswire.com) - Castle Connolly today announced the release of Castle Connolly Top Black Doctors 2023, the first time it has recognized exceptional black doctors in the Castle Connolly network. There are 114 doctors represented, across 20 states and 45 specialties.
The new distinction is part of Castle Connolly's Diversity Equity and Inclusion (DEI) Initiative designed to honor top clinicians and enable patients to find Castle Connolly Top Doctors who have shared backgrounds and experiences. As part of this initiative, Castle Connolly surveyed its current Top Doctors (top 7% of physicians in the U.S., all nominated by peers), to share information about their race/ethnicity, gender and sexual identity. Additionally, Castle Connolly has updated its nomination process moving forward to include pertinent questions related to diversity.
"We know that patients want to connect with the best physicians in the country, and they want the best care. But they also might want to connect with physicians who are culturally similar to them," said Dr. Jacqueline Jones, an associate professor of Clinical Otolaryngology at Weill Cornell Medical Center, managing partner of Park Avenue ENT, member, Castle Connolly Advisory Board and executive sponsor of the DEI Initiative. "That connection can be established on so many different levels - whether it's by walking into a room and seeing someone who looks like you, or speaks the same language as you do, or having a doctor who understands where you came from and the cultural significance of your illness. Castle Connolly Top Black Doctors was created to honor the importance of this connection."
A new survey from Everyday Health and Castle Connolly that looks at what patients want most in their doctors showed variations by race. The survey involved 1,001 consumers and 277 healthcare professionals. Almost a third of white patients said their top priority was the ability to listen to questions and concerns, while this was the most important trait for just 20 percent of Black patients. Meanwhile, Black patients were nearly twice as likely as white patients to completely agree that they would be more comfortable and more likely to listen to advice from physicians who shared their race or ethnicity or sexual orientation.
"For patients, having access to a doctor with a similar background or shared experience can improve the quality of care and positively impact health outcomes," said Steve Leibforth, Managing Director, Castle Connolly. "At Castle Connolly, we are committed to advancing DEI and to promoting and embracing our diversity. We are proud to recognize these leading top black doctors and encourage all consumers to do their research to ensure that they are receiving optimal care."
All Castle Connolly Top Black Doctors are nominated by their peers, and then the Castle Connolly research team evaluates important criteria to determine who makes the list, including professional qualifications, education, hospital and faculty appointments, research leadership, professional reputation, disciplinary history, interpersonal skills and outcomes data (where available).
In addition to Castle Connolly Top Black Doctors, Castle Connolly will launch other new recognitions in 2023, including:
Exceptional Women in Medicine (March)
Top Asian American and Pacific Islander (AAPI) Doctors (May)
Top LGBTQ+ Doctors (June)
Top Hispanic/Latin Doctors (September)
About Castle Connolly
With over 30 years' experience researching, reviewing and selecting Top Doctors, Castle Connolly is a trusted and credible source. In fact, a study published in the Journal of Medical Research found that across several specialties evidence indicates that Castle Connolly's peer-reviewed directory is methodologically more reliable than sites that just relied on patient reviews when it came to identifying quality care. Our mission is to help people find the best healthcare by connecting patients with best-in-class healthcare providers. For more information, visit https://www.castleconnolly.com.
About Everyday Health Group
The Everyday Health Group is a recognized leader in patient and provider education, attracting an engaged audience of over 76 million health consumers and over 890,000 U.S. practicing physicians and clinicians to its premier health and wellness digital properties. Our mission is to drive better clinical and health outcomes through decision-making informed by highly relevant information, data and analytics. We empower healthcare providers and consumers with trusted content and services delivered through the Everyday Health Group's world-class brands. Everyday Health Group is a division of Ziff Davis, Inc. (NASDAQ: ZD).
Source: Castle Connolly