Castle Connolly Releases Castle Connolly Top Asian American and Pacific Islander Doctors 2023
Press Release
•
May 23, 2023
For first time, list recognizes 350 leading AAPI doctors in the nation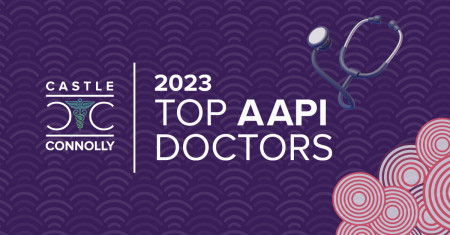 NEW YORK, May 23, 2023 (Newswire.com) - Castle Connolly today announced the release of Castle Connolly Top Asian American and Pacific Islander Doctors 2023, the first time it has recognized exceptional AAPI doctors in the Castle Connolly network. There are 350 doctors represented, across 35 states and 63 specialties.
The new distinction is part of Castle Connolly's Diversity, Equity, Inclusion and Belonging (DEIB) Initiative designed to honor top clinicians and enable patients to find Castle Connolly Top Doctors who have shared backgrounds and experiences. As part of this initiative, Castle Connolly surveyed its current Top Doctors (top 7% of physicians in the U.S., all nominated by peers), to share information about their race/ethnicity, gender and sexual identity. Additionally, Castle Connolly has updated its nomination process to include pertinent questions related to diversity.
"More and more, medicine needs to incorporate and embrace diversity and inclusion because our society is comprised of people of different backgrounds and different languages, and everyone wants to receive their medical care in a comfortable way, which often means having their differences embraced," said Dr. Maki Kano-Lueckerath, primary care physician at Mount Sinai Doctors-Japanese Medical Practice, Castle Connolly Top Doctor and Castle Connolly Top AAPI Doctor. "Growing up Asian in this country, I have always been part of a minority group and sensitive to how I could be different from the majority population in terms of culture and language. This experience gives me sensitivity and empathy to the different backgrounds of my patients, which I see as a positive."
Asian American and Pacific Islanders are the fastest-growing racial group in the United States, comprising about 6% of the population according to the 2020 U.S. Census. This population faces health inequities driven by language and cultural barriers. A 2021 survey by Pew Research Center found that 42% of Asian immigrants ages five and older reported being less than proficient in English, making them less likely to receive recommended preventive services than English-proficient patients. Other AAPI patients may be reluctant to adhere to Western medical recommendations due to cultural beliefs and practices.
"Having an AAPI physician who shares the same cultural and linguistic background can help to bridge communication gaps and increase patient trust, which can ultimately lead to better health outcomes," said Steve Leibforth, Managing Director, Castle Connolly. "Castle Connolly's Top AAPI Doctors are a resource for patients seeking culturally responsive care that respects patients' values and beliefs, as well as exceptional medical expertise."
All Castle Connolly Top AAPI Doctors are nominated by their peers, and then the Castle Connolly research team evaluates important criteria to determine who makes the list, including professional qualifications, education, hospital and faculty appointments, research leadership, professional reputation, disciplinary history, interpersonal skills and outcomes data (where available).
The Castle Connolly Top AAPI Doctor distinction is part of Castle Connolly's Diversity, Equity, Inclusion, and Belonging (DEIB) initiative, designed to honor top clinicians and enable patients to find Castle Connolly Top Doctors who have shared backgrounds and experiences. Other 2023 recognitions include:
Top LGBTQ+ Doctors (launching June 21, 2023)
Top Hispanic/Latin Doctors (launching September 2023)
About Castle Connolly
With over 30 years' experience researching, reviewing and selecting Top Doctors, Castle Connolly is a trusted and credible source. In fact, a study published in the Journal of Medical Research found that across several specialties evidence indicates that Castle Connolly's peer-reviewed directory is methodologically more reliable than sites that just relied on patient reviews when it came to identifying quality care. Our mission is to help people find the best healthcare by connecting patients with best-in-class healthcare providers. For more information, visit https://www.castleconnolly.com.
About Everyday Health Group
The Everyday Health Group is a recognized leader in patient and provider education, attracting an engaged audience of over 76 million health consumers and over 890,000 U.S. practicing physicians and clinicians to its premier health and wellness digital properties. Our mission is to drive better clinical and health outcomes through decision-making informed by highly relevant information, data and analytics. We empower healthcare providers and consumers with trusted content and services delivered through the Everyday Health Group's world-class brands. Everyday Health Group is a division of Ziff Davis, Inc. (NASDAQ: ZD).
Source: Castle Connolly