Castle Connolly and GLMA Release Castle Connolly Top LGBTQ+ Doctors 2023
Press Release
•
Jun 21, 2023
For the first time, list recognizes 64 leading LGBTQ+ doctors in the nation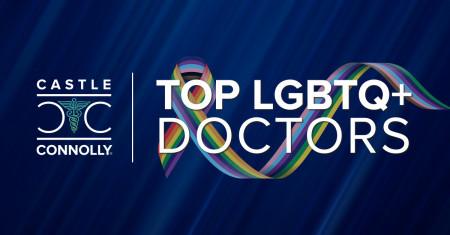 NEW YORK, June 21, 2023 (Newswire.com) - Castle Connolly, in partnership with GLMA - the leading association of LGBTQ+ and allied health professionals, today announced the release of Castle Connolly Top LGBTQ+ Doctors 2023. It's the first time Castle Connolly has recognized exceptional doctors within the LGBTQ+ community who have demonstrated outstanding expertise, patient care, and contributions to the field of healthcare. There are 64 doctors represented, across 22 states and 34 specialties.
The new distinction is part of Castle Connolly's Diversity Equity and Inclusion (DEI) Initiative designed to honor top clinicians and enable patients to find Castle Connolly Top Doctors who have shared backgrounds and experiences. As part of this initiative, Castle Connolly surveyed its current Top Doctors (top 7% of physicians in the U.S., all nominated by peers), to share information about their race/ethnicity, gender identity, and sexual orientation.
"Being an LGBTQ+ physician adds a powerful dimension to their ability to serve patients because LGBTQ+ doctors embody visibility and representation, inspiring hope and confidence in their patients," says Alex Sheldon, Executive Director of GLMA. "Having health professionals who understand the unique health needs of LGBTQ+ communities first hand is invaluable for fostering trust and achieving better health outcomes. Their visible presence challenges societal norms, breaks down barriers, and inspires future generations of LGBTQ+ physicians, creating a transformative ripple effect within the medical field."
The LGBTQ+ population in the United States faces several significant health inequities, including barriers to accessing healthcare due to discrimination by healthcare providers, disrespectful treatment, and concerns about confidentiality, as well as higher risk for mental health issues resulting from stigma and prejudice. In order to combat these inequities, it is essential for LGBTQ+ patients to find affirming and compassionate health care providers and environments.
"We are extremely proud to present the Top LGBTQ+ Doctors list as a valuable resource for LGBTQ+ patients seeking quality care," said Steve Leibforth, Managing Director, Castle Connolly. "By highlighting these exceptional LGBTQ+ physicians, we aim to empower patients to find providers who not only possess medical excellence but also understand the unique needs and challenges faced by the LGBTQ+ community."
All Castle Connolly Top LGBTQ+ Doctors are nominated by their peers, and then the Castle Connolly research team evaluates important criteria, including professional qualifications, education, hospital and faculty appointments, research leadership, professional reputation, disciplinary history, interpersonal skills and outcomes data (where available).
Additional 2023 recognitions from Castle Connolly's Diversity, Equity and Inclusion (DEI) initiative include:
Top Hispanic/Latin Doctors (launching September 2023)
About Castle Connolly
With over 30 years' experience researching, reviewing and selecting Top Doctors, Castle Connolly is a trusted and credible source. In fact, a study published in the Journal of Medical Research found that across several specialties evidence indicates that Castle Connolly's peer-reviewed directory is methodologically more reliable than sites that just relied on patient reviews when it came to identifying quality care. Our mission is to help people find the best healthcare by connecting patients with best-in-class healthcare providers. For more information, visit https://www.castleconnolly.com.
About GLMA
GLMA is a national organization committed to ensuring health equity for lesbian, gay, bisexual, transgender, and queer (LGBTQ+) communities and equality for LGBTQ+ health professionals in their work and learning environments. To achieve this mission, GLMA utilizes the scientific expertise of its diverse multidisciplinary membership to inform and drive advocacy, education, and research. For more information, visit https://glma.org.
About Everyday Health Group
The Everyday Health Group is a recognized leader in patient and provider education, attracting an engaged audience of over 76 million health consumers and over 890,000 U.S. practicing physicians and clinicians to its premier health and wellness digital properties. Our mission is to drive better clinical and health outcomes through decision-making informed by highly relevant information, data and analytics. We empower healthcare providers and consumers with trusted content and services delivered through the Everyday Health Group's world-class brands. Everyday Health Group is a division of Ziff Davis, Inc. (NASDAQ: ZD).
Source: Castle Connolly