Capital Access Group Helps Three Brothers Furniture to Secure $1.5 Million in SBA 504 Financing to Purchase a New Building in Vallejo, CA, Continuing Their Family Legacy of Great Customer Service
"It's invigorating to finally have a future we can forecast." - Julia Glenn, Co-owner, Three Brothers Furniture
Press Release
-
updated: Apr 1, 2019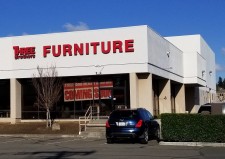 SAN FRANCISCO, April 1, 2019 (Newswire.com) - Capital Access Group (www.capitalaccess.com), a commercial real estate lender specializing in U.S. Small Business Administration 504 loans for growing businesses, recently helped Gary and Julia Glenn, the owners of Three Brothers Furniture, to secure $1.5 million in total project financing through the SBA 504 commercial real estate loan program to purchase a 22,000-square-foot facility on a 56,628-square-foot parcel located at 3274 Sonoma Blvd in Vallejo, CA. The new building will allow the business to consolidate operations under one roof.
Founded by Lew and Lora Glenn in 1952, Three Brothers Furniture has been a staple in the Vallejo community, providing good quality furniture at a fair price. Today, the company is led by Lew and Lora's son, Gary, and his wife Julia and son Justin.
"We're a completely family-owned business that delivers on what we say," said Julia Glenn, Co-owner, Three Brothers Furniture. "We believe in offering the best customer service, and we want to be able to keep growing and expanding so we can continue to be a strong part of Vallejo's community."
The acquisition of the Vallejo property gives Three Brothers the necessary space to expand the business, create new jobs, and serve the community.
"We were leasing our showroom, but it was just getting too small, so we decided to look around," said Glenn. "Our showroom was in one location, and our warehouse was in another location. The new facility, originally built as a furniture store, has a warehouse and a showroom all designed together. It's really going to be a fabulous move for us."
The SBA 504 loan's structure, which includes a low, ten-percent down payment and competitive interest rates, was attractive to the Glenns. They were also pleased with the quick turnaround and efficient process.
"If we did not go through this SBA program, there is no way we would have qualified for any other loan," said Glenn. "We had a great credit rating; we just didn't have the down payment cash that we needed. All our equity was invested in our inventory."
"We had to close the loan on this building in roughly in six weeks," said Glenn. "Facilitating an SBA loan in six weeks seems unheard of, and yet Claudia (Cohen) at Capital Access made it so simple and so comprehensive. They really bent over backwards. We were in constant contact and it was fabulous to have that level of support."
"In the end, we're buying a bigger unit that enables us to sustain the business with the same expenses we had before," said Glenn. "It's invigorating to finally have a future we can forecast."
"We love helping family-owned businesses succeed, especially businesses like Three Brothers that are such important and respected members of their community," said Claudia Cohen, Senior Vice President, Capital Access Group. "Now, Three Brothers has ample room to grow, and with low payments and a low-interest rate, their business costs will be stabilized well into the future." 
About Capital Access Group: Capital Access Group is a leading statewide Certified Development Company based in San Francisco, authorized by the U.S. Small Business Administration to provide long-term, fixed-rate financing through the SBA 504 loan program, which offers 90 percent financing to business owners for the purchase, renovation, or construction of commercial real estate for their growing businesses. Founded in 1981, Capital Access Group has helped thousands of entrepreneurs grow their businesses and realize their dreams of owning their own buildings. Currently, the SBA 504 interest rate is 4.58 percent, fully amortized and fixed for 20 years. For more information, please visit www.capitalaccess.com.
###
Source: Capital Access Group
Share:
---
Tags: 504, Buy the Building, Capital Access Group, Commercial Real Estate, loan, SBA, SBA 504, Small Business, three brothers, Vallejo
---