Capital Access Group Helps Redwood Montessori School in Penngrove, Calif., Access SBA 504 Funds to Purchase the Property to Grow the Business and 'Make It Their Own'
'Our monthly mortgage payment is lower than our rent!' - Aishwarya Kancharla, co-owner, Redwood Montessori School
Press Release
-
updated: Jan 3, 2018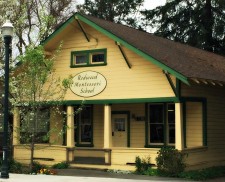 SAN FRANCISCO, January 3, 2018 (Newswire.com) - Capital Access Group (www.capitalaccess.com), a commercial real estate lender specializing in U.S. Small Business Administration 504 loans for growing businesses, recently helped entrepreneurs Aishwarya Kancharla and Daniel Turner to secure $320,000 in total project financing through the SBA 504 commercial real estate loan program to purchase a 1,215-square-foot building at 11201 Main Street, Penngrove, California.
The facility is home to the Redwood Montessori School, which has occupied the space for the last 15 years. Kancharla and Turner purchased the school in 2014 and assumed responsibility for the lease. Kancharla and her lean team of seven -- five teachers and two administrators -- service the Penngrove and Santa Rosa communities with the Montessori philosophy of encouraging self-directed activity with hands-on learning and collaborative play.
"We have grown the space a lot in the last three years, changing the program and focusing on modern developmental science," said Aishwarya Kancharla, co-owner, Redwood Montessori School. "We're at a point where we want to take the physical property and make it our own."
The Redwood Montessori School building plays a central role in the overall curriculum, where the physical environment complements the Montessori method of collaborative learning. From the developmentally appropriate classroom layout to creating an outdoor area that enriches children's interaction with the equipment, the natural environment, their teachers and peers. According to Kancharla, the idea is to create a space that is "engaging enough where things are constantly evolving and children are excited to come to school. The program has been growing a lot, and we felt secure enough financially to kind of take this next step. We are very stable business-wise, but as a preschool, we don't have all this extra cash laying around."
"The SBA 504 loan was the perfect solution for Aishwarya and Daniel," said Cara Rudy, vice president, Capital Access Group. "The 504 program's low, 10 percent down payment allowed them to preserve working capital to invest in improving the building in a way that furthers the education of their students. The long-term, fixed-interest rate gives them the stability and reassurance they need to plan for the future."
"Banks, lending, loan options - this is not something we intuitively know. So, it was great to work with Capital Access Group, and Cara specifically," said Kancharla. "She held our hands throughout the entire process until we understood what we were getting ourselves into.
"It feels amazing to own the property. The low down payment made it possible to buy the property, but beyond that, our monthly mortgage payment is lower than our rent! Now, we can do what we want, what we feel is appropriate for the success of the academic program and our students."
About Capital Access Group: Capital Access Group is a leading statewide Certified Development Company based in San Francisco, authorized by the U.S. Small Business Administration to provide long-term, fixed-rate financing through the SBA 504 loan program, which offers 90 percent financing to business owners for the purchase, renovation or construction of commercial real estate for their growing businesses. Founded in 1981, Capital Access Group has helped thousands of entrepreneurs grow their businesses and realize their dreams of owning their own buildings. Currently, the SBA 504 interest rate is 4.50 percent, fully amortized and fixed for 20 years. For more information, please visit www.capitalaccess.com.
Source: Capital Access Group
Share:
---
Categories: Small Business, Commercial Banking, Governmental Banking, Education
Tags: Capital Access, commercial real estate financing, Montessori, Penngrove CA, SBA 504, small business, small business administration, small business finance, small business loan
---