Capital Access Group Helps Park-a-Pup Kennels Secure $6.9M in SBA 504 Financing to Build a State-of-the-Art, 106-Kennel, Dog Boarding Facility in Novato, CA
"The comfort of the low interest rate just helps me sleep at night." - Paul Dana, Owner, Park-A-Pup Kennels
Press Release
-
updated: Aug 6, 2019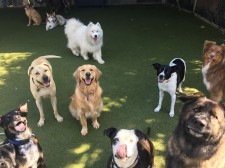 SAN FRANCISCO, August 6, 2019 (Newswire.com) - Capital Access Group (www.capitalaccess.com), a commercial real estate lender specializing in U.S. Small Business Administration 504 loans for growing businesses, helped the owners of Park-A-Pup Kennels secure $6.9 million in total project financing through the SBA 504 commercial real estate loan program for the construction of a two-story, 12,123-square-foot, 106-kennel, dog boarding and daycare facility at 7586 D Redwood Boulevard in Novato, CA. The new building will add a second dog boarding facility to the business, which currently operates a 34-kennel space in San Rafael, CA. Park-A-Pup expects construction of the new facility to be completed in the spring of 2020.
Paul Dana, a former veterinary technician, purchased Park-A-Pup Kennels in 2010 and transformed the 1970s-era outdoor dog kennel into a modern facility with indoor and outdoor dog runs, playgroups throughout the day, and higher standards of both dog care and customer service. 
"I made the necessary repairs and upgrades to the building to allow it to compete with the modern dog facilities in the area, but I couldn't do too much because I was leasing the land," said Paul Dana, Owner, Park-A-Pup Kennels.
In 2014, Dana started searching for property to purchase so he could build his own building, and in 2016, he bought the Novato parcel and began a campaign to get the necessary permits and approvals from City of Novato to construct the new facility.
"The City of Novato had plans dating back to 1996 for a large, lifestyle retail space in this location, but the economy had changed, and developers weren't interested," said Dana. "We had to convince them that a dog kennel would benefit the city by creating foot traffic for other businesses in the area. Now, they're looking at us as a catalyst for growth." 
Once he was through persuading the city of Novato to approve his construction permits, Dana then needed to convince lenders to loan him the money to build his vision: a completely indoor dog kennel.
"The fact that the SBA looked at our projections was one of the appealing things about the 504 loan, and also the lower interest rate," said Dana. "The comfort of the low interest rate just helps me sleep at night."
"The industry is changing and moving toward a more climate-controlled, hotel experience," said Dana. 
"Our kennels in Novato will be completely indoors, and that was one of the challenges we faced when speaking to lenders. The traditional lenders didn't know how to value the single-purpose property we wanted to build. They wanted to see how cash flow from our current 34-kennel location could pay down the loan, but we could only project how much the additional 106 kennels would produce."
"It was a breath of fresh air when Claudia (from Capital Access) joined the team and was able to work with our projections and get the banks excited about talking to us," said Dana. "It's hard to describe how much I appreciated Claudia's professionalism, speed, and tenacity. In the end, we had two banks competing for the loan!" 
"We loved working with Park-A-Pup and being a part of their wonderful business and expansion plans," said Claudia Cohen, Senior Vice President, Capital Access Group. "Paul and his team were so organized and quick to respond to our requests. We're just thrilled that we could help them secure the financing they needed to build a state-of-the-art building to grow their business."
About Capital Access Group: Capital Access Group is a leading statewide Certified Development Company based in San Francisco, authorized by the U.S. Small Business Administration to provide long-term, fixed-rate financing through the SBA 504 loan program, which offers 90% financing to business owners for the purchase, renovation, or construction of commercial real estate for their growing businesses. Founded in 1981, Capital Access Group has helped thousands of entrepreneurs grow their businesses and realize their dreams of owning their own buildings. Currently, the SBA 504 interest rate is 3.90%, fully amortized and fixed for 20 years. For more information, please visit www.capitalaccess.com.
###
Source: Capital Access Group
Share:
---
Categories: Pets
Tags: Commercial Loan, Pets, SBA, SBA 504, SBA Loan, Small Business, Small Business Loan
---