C-leveled Offers Five Things Advertising Campaigns Need Before Starting
Press Release
-
updated: May 30, 2019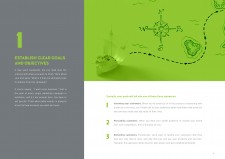 PITTSBURGH, May 30, 2019 (Newswire.com) - To date, C-leveled has helped over 60 companies launch and has driven revenue for over 350 clients. They are the marketing and advertising experts that know precisely what goes into a successful advertising campaign.
The team has put their heads together and poured all their knowledge into an exclusive free guide that tells business owners exactly what they should and shouldn't be doing before embarking on an advertising campaign.
The guide titled "What You Need to Know About Advertising…Before You Start" is full of information that is vital to anyone thinking of launching an advertising campaign for their business.
Firstly, the guide teaches the importance of planning by setting clear goals and objectives. The way a business chooses its goals and creates a plan to achieve them can improve its chances of success significantly. The second step of the guide discusses how to identify a target audience and create a buyer persona. This is a crucial tactic that is not to be avoided as it will underpin the entire campaign.
The next section includes plenty of hints and tips on budgeting and scheduling. Since these are some of the top problems business owners and executives come up against, C-leveled has detailed different ways to set the right budget and keep the project on time - no matter how big or small the business.
Choosing the right media is an essential aspect of campaign planning, too. C-leveled helps business owners choose the best channels for them. Whether they will communicate via social media, viral videos or more traditional methods such as TV or magazines, businesses applying C-leveled tried-and-tested advice can be confident they're choosing the best media type for their target audience.
Finally, the guide contains a section to get businesses thinking about their messaging and what they want their audience to get out of the campaign. Whatever the message needs to achieve, C-leveled highlights the best ways to identify what needs to be said and to refine it until it's on-point.
Expect to finish the guide with a thorough understanding of how to plan for any advertising campaign, large or small. C-leveled has taken the care to impart years of knowledge and expertise concisely to make a practical guide that's easy to understand, even for the most inexperienced business owners.
To receive a copy of this exclusive free guide and bonus materials, simply click here: https://with.c-leveled.com/advertising/ to download it.
For additional advice or expertise, contact C-leveled via https://c-leveled.com/​ to blow the competition out of the water.
Source: C-leveled
Share:
---
Categories: Advertising
Tags: advertising, branding, business strategy, marketing, rebranding
---