Building the Future: Recognizing the Construction and Real Estate Trends Shaping Tomorrow
Futurist Jack Uldrich shares his insights on emerging and converging trends in construction and real estate at three events this month.
Press Release
-
updated: Feb 23, 2018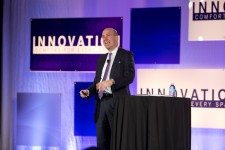 PHOENIX, February 23, 2018 (Newswire.com) - Best-selling author Jack Uldrich returns to Phoenix today to share his insights with the Urban Land Institute of Arizona. A frequent speaker on construction and real estate trends, Uldrich helps leaders in these industries recognize the emerging trends and technologies transforming their future. 
Earlier this month, Uldrich was in Minneapolis to speak to the Excelsior Group, a full-service real estate firm. On Feb. 27, he will be back in Minneapolis to speak to leaders with Mortenson Construction on the technologies shaping their industry.  
In his presentations, Uldrich highlights a variety of trends and technologies affecting the future of these industries, including obvious innovations like 3D printing, artificial intelligence, robotics, and autonomous vehicles, to the not so obvious influences of nanotechnology and the sharing economy.
In addition to identifying important trends, Uldrich "connects the dots" by showing how many seemingly disparate advancements converge to drive new innovations. An example he cites is how Airbnb, a company launched on the idea of renting airbeds to strangers, is having a significant impact on real estate prices in major cities around the world. 
Uldrich says "Everyone in the real estate industry, ranging from agents to designers to construction workers, will need to increase their awareness of the advances in technology because at the end of the day these technologies will radically impact their future."
However, regardless of what new technologies emerge, Uldrich cautions "against betting heavily on any particular technology and instead advocates the use of 'future-proofing' plans providing enough flexibility to adjust to whatever is to come."
When it comes to those adjustments, Uldrich is a proponent of "unlearning." As the founder of "The School of Unlearning", Uldrich often blends the concept into his keynotes and written works.
In his writings on unlearning, Uldrich quotes Richard Feynman, the Nobel-prize winning physicist, who shared this profound insight, "The first principle is that you must not fool yourself, and you are the easiest person to fool." Feynman also kept "a notebook of things I don't know."
One way to remain open to the need for unlearning, suggests Uldrich, is similarly, to keep a journal on ways you have been fooled. If you're more daring, he says, "you may even wish to label it 'a notebook of how I have fooled myself.'"
A prolific speaker on real estate and construction trends, he speaks to clients in those industries both nationally and internationally. Uldrich's recent clients include BBE Hydro Constructors, Jacobsen Construction, the Oklahoma City Commercial Real Estate Council, Miami Downtown Council, Downtown Council of Minneapolis, The American Planning Association (association of urban planners), and The Institute of Transportation. 
To learn more about Uldrich's thoughts on the future of construction and real estate, you can read his recent article on the topic: The Future of Construction is Accelerating. For his other articles, videos, and resource links, please visit his website. 
Source: Jack Uldrich & The School of Unlearning
Share:
---
Categories: Town and City Government, Construction, Real Estate, Real Estate Investments
Tags: Cities, Construction, Jack Uldrich, Keynote, Real Estate, Unlearning
---