Building a Sustainable Catering Business with a 504 Loan from Capital Access Group: The Story of Left Coast Catering
Press Release
-
updated: Dec 14, 2016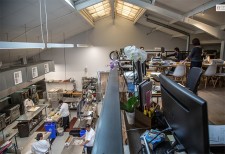 San Francisco, CA, December 14, 2016 (Newswire.com) - ​​​​Left Coast Catering owner Laurine Wickett loves to create memorable occasions, bringing people together over delicious food. She's been doing just that for over two decades in San Francisco.
After renting in several different locations, she obtained help with a small business loan through Capital Access Group, and was able to purchase a building  in San Francisco's Bayview neighborhood, an achievement that makes all the difference in helping her business to thrive. Laurine was able leverage the SBA 504 program to secure $1,668,872 in total project to purchase a 5,000 square-foot building at 1400 Yosemite Ave. She worked with Capital Access Group, a commercial real estate lender specializing in U.S. Small Business Administration 504 loans for growing businesses.
Laurine not only has a passion for food, she also has a passion for sustainability, and it influences every decision she makes for her company, now celebrating 21 years in business catering for social and business events.
"This is something I had been looking at for probably eight to 10 years, is buying our own building," she said. "So now for the first time, we're building equity and, more importantly, now I have the security of having a place to operate."
"I would not have been able to afford to buy a building without the 504 loan," Laurine said, noting the usual 20-30 percent down that a commercial lender would require.
A catering business, especially, needs its own building because it is nearly impossible to sustain growth without the security of knowing that food can be prepared consistently with high quality, using the right assortment of ovens, refrigerators, and other expensive equipment. Laurine recalled a landlord that once gave her business a 60-day notice to leave, a move that could ruin a business such as hers.  "It's not like I can just move my operation and go to a different office space. With a catering company, you need the right facilities to operate. And without a kitchen, I can't operate. My needs are very, very specific."
In a catering company, or any service-oriented business for that matter, it can be difficult to build up equity. Owning a building changes that equation. "Now for the first time, we're building equity, and more importantly, now I have the security of having a place to operate," Laurine said.
Ever since the start of her career, Laurine has focused on sustainability. After having seen how much waste can happen in the food business, she started composting, and that was long before the city of San Francisco had its own composting and recycling ordinance. She recognized that building ownership was essential to make the necessary changes to be a truly sustainable business. "How do we reduce our carbon footprint and how can we be green and energy efficient?" she asked. "We put solar on the roof, we have LED lighting, and because all of our equipment is new, it's all energy efficient. This was a great opportunity to be able to put all of my beliefs into action in the building."
"There's an important message here for businesses—especially food businesses—that want to be sustainable," said Jacklyn Jordan, President and CEO, Capital Access Group. "In most cases, it's not possible or feasible to make the infrastructure changes necessary to be truly sustainable. As Laurine demonstrates, owning the building changes the equation and gives the business complete control over the future of the business."
Laurine got started in the catering business after helping a friend design dinner parties for Silicon Valley executives in the early 1990s. She soon rented her first commercial building, named her business, and it became "real."
Left Coast Catering now has an energy efficient solar-powered kitchen, and her menu features the highest quality ingredients, ranging from sustainable fish to free-range meat. All cooking and baking is done in-house, from roasting meat to picking vegetables, and baked items are made by her pastry chef. "It's a made-from-scratch kitchen," she says. Most of her current clientele is corporate social events.
Left Coast Catering has benefited from Laurine's self-described "conservative" approach to growth. "I just built the business it as I went along. I never took on more debt than I could handle," she said. "Later on, I was able to take leaps of faith, knowing and projecting ahead that I was going to be able to afford a new space or new equipment."
That sensibility is a good fit for the SBA 504 program. For 10 percent down with low interest rates, the businessperson gets to own his or her own building. At heart, Laurine has always been an entrepreneur who appreciates the "bootstrap mentality." Left Coast Catering has about 15 regular employees, and another 30 or so who are part time. The new space has given them the ability to take on more clients and grow the business.
"We are so proud of Laurine, both in terms of her sincere commitment to running a sustainable business and to her common sense approach to managing her finances," said Jordan. "Taking advantage of the SBA 504 loan program's low down payment was a logical step to accelerate her growth and stabilize the business."
Laurine is grateful for the help that Capital Access Group provided. "We never felt like we got the same kind of attention and support from the traditional lending institutions. I never felt like they were in our corner or backing us up, where with Capital Access we always felt like they were on our team and supporting us."
About Capital Access Group:
Capital Access Group is a leading statewide Certified Development Company based in San Francisco, authorized by the U.S. Small Business Administration to provide long-term, fixed-rate financing through the SBA 504 loan program, which offers 90% financing to business owners for the purchase, renovation, or construction of commercial real estate for their growing businesses. Founded in 1981, Capital Access Group has helped thousands of entrepreneurs grow their businesses and realize their dreams of owning their own buildings. Currently, the SBA 504 interest rate is 4.357%, fully amortized and fixed for 20 years. For more information, please visit www.capitalaccess.com.
Source: Capital Access Group
Share:
---
Categories: Small Business, Restaurants, Bars, and Catering, Commercial Banking
Tags: Commercial Lender, Government Loan, Green, Kitchen, Left Coast Catering, SBA, SBA 504, Small Business Loans, Sustainability
---