Brian Evans Will Write Book on Hospital Negligence, Hospital Rating Companies, and Sleep Apnea
Press Release
•
updated: Jul 10, 2017
Singer who lost his mother in 2012 will write a book detailing the events that took place, and discuss Sleep Apnea and hospital negligence.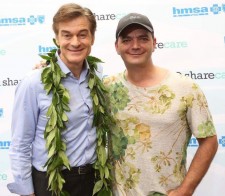 BOSTON, MASSACHUSETTS, July 10, 2017 (Newswire.com) - Brian Evans, the singer known for such classic music videos as "At Fenway" with William Shatner, and "Creature at The Bates Motel," with comedian Carrot Top, has decided that he will write a book about hospital negligence.
According to a recent article in The Washington Post, hospital negligence is now the third leading cause of death in the United States, killing hundreds of thousands of patients each year.
"This book will discuss everything I've learned about this unbelievable hospital system we have in America, and those behind the business of hospitals and rating companies. It won't be easy for anyone to read, but I had to do it. Not one politician ever addresses any of these issues and it's time for them to wake up. When you run for office, FEC rules permit you the same airtime as your opponents and that's when you can speak your mind. Be unafraid."

Brian Evans, Author
Further, Evans intends to discuss the hospital rating organizations, often heard of in hospital radio and TV advertising that give many hospital "A ratings." The problem is that the organizations never actually walk into the hospitals that they are rating. It has become customary that the rating companies merely send questionnaires to the hospitals, which they answer themselves, and then mail back with a payment.
"It's the best rating money can buy," says Evans.
Evans, who intends to run for Congress, believes that there is not one single political figure in American politics today who is discussing hospital negligence, hospital rating companies, and the recent passing of actress Carrie Fisher has brought even more worldwide attention to the condition known as Sleep Apnea (Evans is a friend of a Fisher family member). Evans mother passed away from the condition after being left in an unmonitored recovery room following knee surgery while being provided morphine, despite the hospital knowing she had the condition known as Sleep Apnea prior to even walking into the hospital.
Evans has approached all fifty United States governors seeking Sleep Apnea Awareness Proclamations following his mother's passing. Many of the states mention her by name, despite her never stepping foot into those states during her life. His mother, Helen Bousquet, was added to The National Baseball Hall of Fame Library in 2015 for her work on the music video "At Fenway," which has received over 11 million views on YouTube and actually features her in the music video, filmed just about one week prior to her passing.
"It is up to the public to speak out. If you do nothing, or say nothing, or let large corporations intimidate you, that's when you lose. To me, this fight has been about my mother's legacy and the lives she's saved," says Evans.
Evans says Canadian Prime Minister Justin Trudeau and Prince William have reached out to him regarding his plight for Sleep Apnea Awareness, and because of his mother, many hospitals now immediately place a "Sleep Apnea" bracelet on a patient who claims to have it upon entering a hospital. He will travel to Washington, DC later this year to speak with various members on the health committee.
Oscar-winning actor Tom Hanks introduces his mother's website, at www.helenbousquet.com, and Oscar winner Jeff Bridges also has aided Evans in his plight to bring attention to Sleep Apnea, as has actor William Shatner, (who has Sleep Apnea) and comedians Carrot Top and other luminaries.
"I can't bring her back, but I believe I will see her again, and when I do, she will know I never sold her out. What happened to her is saving lives, and that's more than I'll ever achieve in my own life," says Evans.
"Sleep Apnea is the monster in the room. If someone next to you snores a lot, it's the first warning. Get them checked out or you may regret it. Never leave a patient alone in a recovery room and depend on no one but yourself to make sure your loved one is being watched. You have to be your loved one's advocate, and that's where I failed my mother, by trusting. Don't make the same mistake that I did."
Evans says remaining states that have ignored his requests for the Sleep Apnea Proclamation include New York, Ohio, California, Connecticut, among others. The remaining 15 states have just been sent requests, which include copies of the 35 governors who have now sent Evans the Proclamations sent to each one of the governors who have failed to issue the Proclamation.
"Their signature could save a life, shouldn't that be enough? What exactly do these governors do?" says Evans.
The book will be available in hardcover, paperback, and audiobook.
MEDIA CONTACT
Cameron Walker
BE Book Publishing
(808) 276-1734
Email: belasvegas@yahoo.com
Source: Brian Evans
Related Media
Tags
Additional Links