Brian Dahlberg Becomes Youngest Winner of Amateur Golf Tournament in Saint Petersburg
Press Release
-
updated: Apr 28, 2017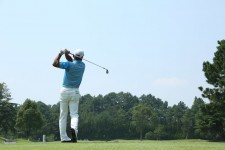 Saint Petersburg, FL, April 28, 2017 (Newswire.com) - Brian Dahlberg is an amateur golfer from Saint Petersburg, FL who first started playing when he was four. Now at age 12, he has taken part in a national amateur golf tournament and won, making him the first to have ever done so at such a young age. Hailed as the next Tiger Woods, Brian Dahlberg is taking the Pinellas County and Hillsborough County by storm.
His manager says: "Brian was made for golf. He picked up his first club when he was just four years old, without any influence from his parents as they were into baseball, and instantly had a swing. Luckily, his parents recognized his talent and sent him to get some lessons. The rest, as they say, is history."
The amateur tournament, located near Clearwater, FL was not designed for youth players. However, Brian Dahlberg was determined to take part in it regardless, with him, his manager, and his parents all believing that he was ready. While some frowned on his acceptance into the tournament, they quickly noticed that the young boy truly was a force to be reckoned with in the sport. It was eventually decided that he should be given a chance, with most thinking that he would not make it very far in the tournament near Clearwater. To their surprise, he actually won it.
His mother says: "I remember my husband being so disappointed when Brian showed no interest in baseball! However, he was willing to admit that it was what Brian wanted, and thus, he supported him every step of the way. And now look at him! We are so incredibly proud of all that he has achieved, at such a young age as well. He is truly passionate and dedicated, which is more than what can be said for most other people his age."
Indeed, at just 12 years old, Brian seems to have dedicated his life to the sport. He has little time for other things that most young people enjoy, although he would regularly be found using his XBox. That said, he has no interest in games like Minecraft or GTA, focusing instead solely on golf games. He says: "Other kids find me a bit weird, because I don't have any interest in things other than golf. However, this is what I enjoy. I don't find them weird for playing football or soccer, or for spending all their time on games like Card Wars. We just have different interests."
The amateur tournament in St. Pete was a full 18 hole golf course, and although Brian Dahlberg is much younger - and therefore smaller - than the other players, the par was not adjusted for him, nor did he want it to. His father says: "He had to fight pretty hard just to get accepted into the tournament and he wanted to take part in it on his own strengths, rather than being given special privileges. That's fair, when you think about it. If you want to play with the big boys, you will have to play like a big boy, which is what I have always told him."
Brian started the St. Pete tournament with a 4 handicap, which is a very strong starting point. In fact, it was based on this handicap that the tournament organizers eventually agreed to allow him to play. His goal, however, is to improve on this handicap tremendously. Tiger Woods continues to be the young man's inspiration, who had a handicap of 13 in his glory days, which has so far been unbeaten. This is Dahlberg's aim as well.
The tournament itself started on a tense note. Brian Dahlberg says: "My nerves got the better of me. It was really intimidating to tee off on my first hole, with a crowd who I felt, didn't really want me there. My first hole ended in a double bogey, and I thought I had lost it. But then the next player, and the one after that, also had a double bogey. And I felt my personal confidence, and the support of the crowd, changing."
Dahlberg's performance did indeed change, as he completed the next hole with a birdie, and even hit an ace on a par 3 course. At that point, the Saint Petersburg crowd was cheering for him, and even the other players felt respect for the young talent. As a result, he has now been spotted by several golfing pros, and his manager states that he is busier than ever. He says: "This has been the turning point for Brian, and he has a fascinating career ahead of him. If he keeps playing the way he does, and I believe that he will only get better, he could truly be the next golfing legend."
Source: Brian Dahlberg
Share:
---
Categories: School Sports, Sports, Fitness, and Recreation, Recreation and Sports
Tags: Brian Dahlberg, Brian Dahlberg Clearwater, Brian Dahlberg Hillsborough County, Brian Dahlberg Pinellas County, Brian Dahlberg Saint Petersburg, Brian Dahlberg St. Pete, Brian Dahlberg Tampa, Brian Dahlberg Tampa Florida
---