Breast Cancer Survivor's Dream Comes True
Press Release
•
updated: Jul 9, 2019
Don't wait for tomorrow to live a life you love today.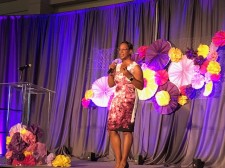 RIVERSIDE, Calif., July 9, 2019 (Newswire.com) - ​Speaker, author of the award-winning book Hidden Treasure, breast cancer survivor and California native, Kara Adams was the afternoon keynote speaker at this year's SoCal Women's Cancer Conference, hosted by Riverside Community Health Foundation and held at the Riverside Convention Center. Twenty-four months to the day Kara Adams was finishing her last round of chemotherapy, and on June 29, 2019, she was the afternoon's featured speaker. The conference had over 400 people registered to attend. It had been Kara's dream to keynote the annual event, and after years of hard work, her dream finally came to fruition.
The goal of the SoCal Women's Cancer Conference was to create an inspiring event, provide quality education and hands-on workshops that would motivate survivors to implement real and tangible life-changing skills beyond diagnosis and treatment.
The one-day conference focused on what it means to be a woman and a cancer survivor. The event offered a memorable experience for all of its participants.
"I felt like a proud mama today. I met Kara when she was diagnosed with breast cancer in 2016. She, like so many other warriors, fought and conquered her battle. Today, she is an author and a true inspiration to so many women. And most important of all, for me, was to see her as one of our keynote speakers at our women's cancer conference. She did incredible! Thank you, Kara, for making the day even greater." -Patty Ramirez
Because of Kara's cancer journey, she was able to give firsthand recollections of what it felt like to go through chemotherapy, to have a bi-lateral mastectomy and the tough road back to recovery. Even though she was speaking to a room full of people touched by cancer, Kara could have been talking to anyone. Her message about "Living a Life You Love" fits us all.
Kara's professional background includes more than 15 years of marketing strategy, improving company performance and product utilization in the financial services industry. She became known as a marketing expert in digital platforms and customer journeys for the largest auction house in the world, worth 16.7 billion dollars, and was the vice president of marketing for the largest credit union in Riverside County—a 1.3 billion dollar financial institution. But Kara's real claim to fame, and why so many event organizers seek her out, is her powerful story and how she uses it to teach others how to stop waiting for tomorrow to live their best life today.
For speaking opportunities, contact Kara Adams at (909) 333.4033 by email at info@karaadams.com or visit https://karaadams.com/speaking/ for copies, photos, and her author bio.
Source: Kara Adams
Related Media