Bipartisan and Nonpartisan Support Embraces Dr. Norman Quintero
Press Release
•
updated: Nov 1, 2018
Candidate for Perris Elementary School Board has broken all the rules in his quest to salvage local schools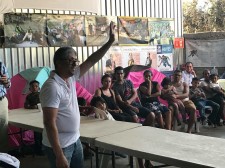 PERRIS, Calif., November 1, 2018 (Newswire.com) - Too few political campaigns at any level, for any office, offer the unique combination of credentials that can be found in the small community of the Perris Elementary School District in southern California. Unlike the majority of those who will be seeking political offices next week, occasionally there is one whose qualifications are tailor-made to fit the job description. Even more rarely do the education, experience and lifelong commitment reflect the values and circumstance of his constituency. Almost never does a candidate subordinate rhetoric to a specific plan for identifying the root causes of specific problems and offer step-by-step milestones on a Road Map to specific solutions.
In a tiny, tight-knit, educational system of something less than 6,000 students, Dr. Norman Quintero has addressed fundamental issues behind, and real solutions to, an underperforming PESD. Previously, he has addressed the fundamentals of accountability, resource allocation, absenteeism, increased revenues and after-school programs with a focus on tutorials, recreational activities and social development. Dr. Quintero believes that a school board should support its dedicated teachers and involve its kids' parents in order to motivate and educate its students.
"Almost 20 years ago, 'No child left behind' was a federal program that sounded good but accomplished little. I am committed to reviving those ideals on a local level. Now that I have received the endorsements from the general public of both major political parties, I will reach out to parents and teachers as well. I am confident that together we can provide individual attention and individual opportunity to every one of our individual students. That is our challenge and our obligation" Dr. Norman Quintero

Dr. Norman Quintero, Candidate for Perris Elementary School Board, District 5
Dr. Quintero shares a common culture and background with local families. With a student body to whom English is a second language and whose nutrition is almost entirely subsidized by governmental agencies, he understands and appreciates the value of a responsive public education system in creating students' successes.
As a professional educator, counselor and mental health expert, he has devoted his life and career to improving lives. As a social advocate and successful businessman, he has achieved a proven talent for the management, and maximizing the efficiency of, limited budgets.
As the father of eight children, he fully understands that every child is born with individual challenges, talents and potential - their success in life requires a coordinated effort, on a daily basis, among teachers, parents, administrators and the students themselves. "Every child" certainly includes those who are entitled to a systemic accommodation for "special education" and "special needs."
In publishing his fifth of six Road Map landmarks, the candidate has stated, "Almost 20 years ago, 'No child left behind' was a federal program that sounded good, but accomplished little. I am committed to reviving those ideals on a local level. Now that I have received the endorsements from the general public of both major political parties, I will reach out to parents and teachers as well. I am confident that together we can provide individual attention and individual opportunity to every one of our individual students. That is our challenge and our obligation."
Source: Dr. Norman Quintero
Related Media
Tags
Related Files