Billy Carson and Thomas Mikey Scrøder Jensen Have Founded the United Family of Anomaly Hunters (UFAH) to Search for Life on Other Planets
Truth Seekers, Billy Carson and Thomas Mikey Scrøder Jensen have combined forces with the top anomaly hunters in the world to form the United Family Of Anomaly Hunters(UFAH). Their mission is to provide enough evidence of past and present life on Earth other celestial bodies inside our own solar system.
Press Release
-
Jun 24, 2016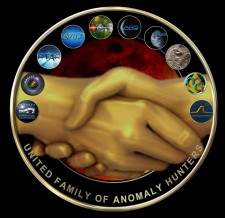 Coral Springs, FL, June 24, 2016 (Newswire.com) - ​​The United Family Of Anomaly Hunters (UFAH) is a non profit organization with active members around the world. Their sole purpose is to help bring disclosure to the world about past and current civilizations on planets and moons in our solar system. Their primary focus is on Mars, only because Mars has the most available raw data to work with, but the UFAH team scour the massive public domain image databases of various space agencies to bring the general public the highest quality anomalous discoveries in our entire solar system.
Billy Carson is a well known activist and truth seeker in the conscious community. He is also the founder of 4biddenknowledge, which is one of the largest conscious networks online. Mr Carson is also the CEO of First Class Space Agency based in Fort Lauderdale, FL. Billy Carson's space agency is involved in research and development of alternative propulsion systems and zero point energy devices. Thomas Mikey Scrøder Jensen is one of the worlds top anomaly hunters. Some of his discoveries have been published in the media all over the world. Thomas is also a producer and has produced many documentaries on the discoveries of the UFAH team as well as many other interviews with highly qualified  individuals. His most current work is a 2 hour documentary entitled: "Baltic Sea Anomaly: The Unsolved Mystery." The documentary features the Ocean X team that discovered the Baltic Sea Anomaly in 2011 along with some of the worlds top researchers in this field.
​Billy Carson calculates that collectively the group has cataloged close to 50,000 anomalies in our solar system. These anomalies are all 100% referenced back to official images from NASA, Caltech, European Space Agency(ESA) and the Indian Space Research Organization(ISRO). The team is very strict on what they put out and all anomalies can be researched and vetted by the general population.
The group claims to have pioneered two new fields of science. Astro-archeology and Astro-anthropology. Billy Carson feels that these will be actual college courses in the not so distant future.
Most of the members have dedicated almost all of their free time and resources to the task of bringing disclosure to the world about what they have discovered. Team member, Joe White of Art Alien Magazine was recently featured as a researcher on two episodes of the History Channel's Ancient Aliens series. Many of the teams findings have been used as research material in actual movies and documentaries. Most recently, Hollywood producer, Jose Escamilla​ used their research in his critically acclaimed documentary entitled "UFO: The Greatest Story Ever Denied III - UFOs from Outer Space". 
The organization has even put out a mobile app named UFAH, and it is available on the app store for Apple and on GooglePlay for Android devices. If you want to learn more about the United Family Of Anomaly Hunters(UFAH), you can look up and join their groups on Facebook or visit them online at http://UFAH.Space
UFAH Facebook groups and their founders:
​Mars Discoveries And Solar System Anomalies - Founder Billy Carson
Mars Moon Space Photo Zoom Club - Founder Thomas Mickey Scroder Jensen
Space, Technology & Anomalies Research (S.T.A.R.)  - Founder Miša Drezgić
​Martian Archaeologist - Founder Brian Hopjins
Exclusive Mars Images - Founder Rami Bar Ilan​
WhatsUpInTheSky.com - Will Farrar
Lunar Anomaly Research Society - Founder Bret Colin Sheppard
Earth Anomaly Research Society - Founder Karen Christine Patrick​
Annunaki History - Founder Billy Carson
Martian Genesis - Founder ​Martine Grainey
Alien Life Group - Founder Neville Thompson
​Mars Anomalies - Founder Chris Moroney
​ArtAlien Magazine - Founder Joe White
​Mars - A Civilization Lost - James Tracy
Source: United Family Of Anomaly Hunters
Share:
---
Categories: Non Profit, Research and Development, Space Travel
Tags: aliens, anomalies, archaeology, astronomy, civilizations, ESA, mars, moon, NASA, space, UFAH, United Family Of Anomaly Hunters
---