Biblical Investors Write Open Letter to the LGBT Community
CEO of biblically responsible investing firm, Inspire Investing, issues open letter to the LGBT community during LGBT Pride Month.
Press Release
-
updated: Jun 25, 2019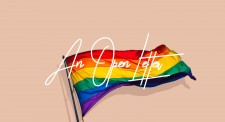 SAN JOSE, Calif., June 25, 2019 (Newswire.com) - Biblical investing firm, Inspire Investing, issued an open letter to the LGBT community today. The letter comes during LGBT Pride Month and details Inspire's faith-based views on LGBT issues and how they relate to Inspire's biblically responsible investment screening.
Inspire CEO, Robert Netzly, begins the letter by explaining the motivation behind it,
"Since Inspire Investing's high-profile and broadly sensationalized media exposure began in 2017, there has been much contention about our exclusion of LGBT activist companies from our biblically responsible investing portfolios. In the spirit of fostering civility and understanding amidst our disagreements, I wanted to write this letter to clearly communicate our heart and position on LGBT matters."
The letter also entreats individuals on both sides of the sexuality debate to embrace civility in the midst of sharp disagreement, with an appeal for the end of name-calling and use of derogatory labels, such as "bigot".  As Netzly writes in the letter,
"We understand that not everybody believes as we do and that our investment methodology may not be a fit for all people...We also acknowledge that some are quick to apply the label of bigot or other such terminology to anyone who believes that heterosexual marriage is God's singular design for human sexuality. We believe that is an unfair categorization, just as it is equally unfair for those claiming the name of Christian to call names and use derogatory labels for our neighbors in the LGBT community."
Inspire has experienced explosive growth since their New York Stock Exchange bell-ringing debut in 2017, exponentially growing their assets under management (AUM) from start-up to over $530M, and have more than doubled AUM in the first six months of 2019 alone.
Christian investors around the globe have become enthusiastic fans of Inspire's unique approach to investing in the most inspiring, biblically aligned companies in the world. But, Inspire has also weathered criticism from their detractors who do not share their biblically based, Christian world view -- especially when it comes to the issue of excluding LGBT activist companies from investment portfolios.
As Netzly puts it, "We are not expecting everyone to agree with our biblical view of LGBT issues, but we do hope to foster a more civil conversation between the LGBT community and faith-based investors. We can disagree and still be nice to each other."
The full version of Inspire's Open Letter to the LGBT Community is available ​on their website, www.inspireinvesting.com. 
About Inspire Investing
Founded in 2015 and headquartered in the Silicon Valley of California, Inspire Investing seeks to create meaningful impact in the lives of people across the globe by providing quality, biblically aligned investments that support Christian ministry and is a leading authority in the Biblically Responsible Investing (BRI) movement. For more information, visit www.inspireinvesting.com.
* Disclaimer: Investment advisory services offered through CWM Advisors LLC dba Inspire, a Registered Investment Advisor with the SEC.
Media Contact:
Eric Smyth
(831) 382-6572
inspire@inspireinvesting.com
Source: Inspire Investing
Share:
---
Categories: Investments
Tags: Biblically responsible investing, faith-based investing, Inspire investing, LGBT, Pride Month
---