BetterBot Raises Capital to Expand Product Offering and Reach
Press Release
•
updated: Jan 27, 2021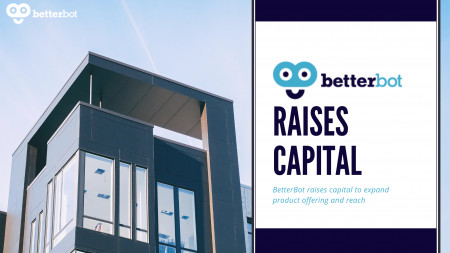 ATLANTA, January 27, 2021 (Newswire.com) - A consortium of Multifamily executives closed on a Series Seed funding round for BetterBot, the round-the-clock leasing assistant of choice, led by San Diego-based venture capital firm UnitLeader.
"We evaluated several companies in the bot space given the need for this technology in the multifamily industry," said Dana Zeff, Chief Disrupter at UnitLeader. "BetterBot has a great deal of enthusiastic clients which got us excited about their product. We talked to fee-managers and owner-operators of different sizes and locations, and they all shared the same sentiment about the significant ROI they've gained from using the BetterBot platform."
BetterBot co-founder Zlatko Bogoevski built and ran a successful Atlanta-based custom software development firm when his team designed a proprietary bot platform specific to the Multifamily and Builder industries. He was introduced to BetterBot co-founder Robert Turnbull, who had helped build several successful Multifamily businesses such as ApartmentGuide.com, Rentals.com, RealEstate.com and RentWiki/RentAdvisor and, most recently, worked for the largest conversational commerce company in the world, LivePerson.
"Robert and I immediately knew we were two sides of the same coin given our backgrounds and where we were heading professionally," said Bogoevski. "I had a solid and fundamental grasp of A.I., bot, and automation technology, while Robert had decades of experience bringing technology solutions to the Real Estate and Multifamily marketplace. Once we merged my team of professional product and engineering developers with his network of high-level clients and seasoned executives, BetterBot just took off."
Today, BetterBot is the most adopted conversational leasing solution in the Multifamily industry, serving thousands of apartment communities. In 2020, BetterBot had nearly four million unique renter conversations, generating half-a-million renter leads resulting in a quarter-million scheduled appointments and tours.
While conducting due diligence, UnitLeader talked to a number of BetterBot clients including Seth Kaplan, Southeast Regional Marketing Director for Pinnacle Property Management, who stated, "Bottom line, BetterBot is the best ROI we get from marketing that we pay for." They also spoke to Daryl Smith, SVP and Chief Marketing Officer for Kettler, who said, "…the bot plays a crucial part of our omni-channel strategy."
UnitLeader's investment comes at a critical time in BetterBot's growth and scaling efforts. The capital will support the company's product enhancements for current and future clients. Additionally, BetterBot intends to expand its sales and marketing teams and continue delivering key industry integrations.
About UnitLeader
UnitLeader is revolutionizing the traditional investment model to unlock the potential of brands and ideas. UnitLeader's mission is to identify and collaborate with partners who have the power to disrupt their industry. We not only invest capital and resources but our time and experience in building long-term success. We are committed to partnering with forward-thinking and responsible businesses.
About BetterBot
BetterBot is the round-the-clock leasing assistant of choice, freeing up leasing teams from low-value, menial and repetitive tasks so they can do what they do best: being human.
Source: BetterBot
Tags
Additional Links