BetterBot Greets Its 50 Millionth Renter
Press Release
•
updated: May 5, 2021
BetterBot continues to be Multifamily's most adopted digital leasing solution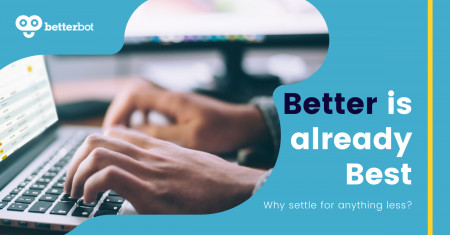 ATLANTA, May 5, 2021 (Newswire.com) - In Q1 of 2021, BetterBot achieved a new milestone greeting its 50 millionth renter through its omnichannel chatbot software. An industry leader in Multifamily chatbot software, BetterBot is successfully building the future of renting. Through its proprietary conversational leasing solution, the company is creating new opportunities for property management teams to engage with both prospective and current renters through self-guided and VR apartment tours, live video, phone appointments, and much more.
Underscoring this achievement is the internal growth BetterBot has experienced over the past three years. Starting from a small team of two, the company has blossomed into a group of over 42 dedicated builders, designers, and customer support enthusiasts. "I don't just think it is a better bot — I believe it's a better company," said COO and co-founder Robert Turnbull. "Having each worked in our respective industries for more than two decades, my business partner Zlatko and I were both fortunate to bring on the very best folks we've ever worked with. Over time, we've all become more than just business associates and friends — we've become family." Since its inception in 2018 by co-founders Zlatko Bogoevski and Robert Turnbull, BetterBot continues to go from strength to strength. By focusing on cultivating meaningful interactions between renters and property management teams, BetterBot differentiates itself from other chatbot software. Using guided conversation, BetterBot allows the prospect to find the answers to more complex questions without any potential of confusion or miscommunication. By providing 100% accurate answers to 100% of the questions, it provides a more seamless leasing experience for the prospect as compared to the less accurate Natural Language Processing chatbots.
BetterBot continues to expand the functionality of a standard chatbot, offering features such as Intelligent Appointment types with COVID protocols to ensure the health and safety for the leasing teams and touring prospects, fully embedded virtual tours and photo galleries to limit the redirects a prospect has to experience and, with limitless omnichannel marketing, options to ensure that prospects are engaging with a consistent experience across any platform.
Today, BetterBot serves thousands of apartment communities and their respective management teams. In 2020 alone, BetterBot has seen conversion rates above industry standards, with over 10% of all conversations starting with BetterBot converting to a viable prospect or scheduled appointment. In addition, BetterBot has answered more than four million apartment-specific questions generating over a quarter of a million renter leads and appointments, resulting in nearly one million hours saved for leasing teams across the country. BetterBot continues to save time for the leasing teams by reducing the time it takes for a lead to become a lease. In a recent study conducted by Rent Dynamics, leads that have engaged with BetterBot convert in an average of 13 days rather than typical ILS conversion rates of 45-80 days.
Source: BetterBot