Bestselling Book Moments: Magic, Miracles, and Martinis by Amy Van Atta Slater Released on May 20th
Press Release
•
updated: May 18, 2016
Transform Your Life and Break Free of Limitations for Lasting Happiness.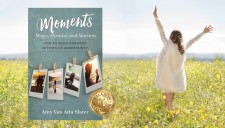 San Francisco, CA, May 18, 2016 (Newswire.com) - ​​​​​​​​​​​​​​​​If you're unhappy, struggling through one challenge after another, and feeling disconnected from everyone, you are not alone. Regardless of the reason, unhappiness can permeate every area of life if left unchecked. So is it possible to shift perspectives and live a life of happiness and peace? Engaging and practical, Moments: Magic, Miracles, and Martinis, How To Move Forward In Times Of Uncertainty by Amy Van Atta Slater presents simple steps to take ownership of your happiness, health, love, and prosperity, towards a greater level of self-awareness and success.
Moments is the unexpected, life-changing journey Amy takes as she navigates the challenges of divorce, single parenting, chronic Irritable Bowel Syndrome (IBS) and her father's diagnosis of Lewy Body Dementia towards wellness and a fulfilling life. Using this remarkable book as your roadmap, learn how to gain greater empowerment and change your life to have lasting happiness.
"Moments is a must read for anyone looking to overcome obstacles"

Douglas Wick, Oscar Award Winning Producer
As an SVP of a leading technology company, highly sought after leadership mentor, keynote speaker and single parent, Amy Van Atta Slater transforms challenges into opportunities. It is through her insights on life, business, personal development, parenting and mindfulness, that she has inspired thousands of business professionals and creative thinkers to adjust, rethink and refocus in every field and walk of life.
After graduating from the University of California at Berkeley, Amy soon became a noted leader in business, and 25 years later, she is consistently inspiring others towards greater levels of success. Motivating the masses with galvanizing speeches, Amy empowers others to build their brands and lead through the cultivation of culture. As a corporate strategy advisor and private executive mentor, Amy cultivates the development of core leadership skills combined with compassion, mindfulness and authenticity. Her unique approach to leadership development has garnered Amy coveted keynote speaking opportunities, such as the 2014 Forrester Research Convention, as a panelist at the Domo Women in Business Tour and as a featured speaker along side Jay Leno at the 2016 Apttus Accelerate conference in San Francisco.
What people are saying about Moments: Magic, Miracles, and Martinis​
"A quick burst of inspiration, Moments provides encouragement during life's most difficult times." - Lisa Germani, CBS Eye on Detroit Field Reporter, Street Beat On Air Host at CW50 & Producer
"Raw and real. Author Amy Van Atta Slater's take on facing the reality of life with its myriad of challenges and blessings, will leave you validated, refreshed and grateful for the soulful dive." - Dr. Shawne Duperon, 6 Time EMMY® winner, Project Forgive Founder
"A beautiful book, about choices and how they converge on lives. Healing emotions and changing our path after "the perfect storm" we all face during life. To find out that, after all, we are not just left with ruins." - Valentina Martelli, CEO, IbiscusMedia, TV Host, Producer, Documentary Filmmaker
"Moments provides inspiration that will carry you through any challenges life has to offer and keep you knowing you are not going though this alone." - Michelle Patterson, CEO, Women Networking & California Women's Conference
The paperback version of Moments: Magic, Miracles, and Martinis will be released on May 20th, published by Turtle Spirit Press. Moments is available at Amazon, Barnes & Noble and select independent bookstores.
To learn more about Moments: Magic, Miracles, and Martinis and Amy Van Atta Slater visit www.AmyVSlater.com
Source: Marianne Pestana LLC
Related Media
Tags