'The Technology of Intention' by Kim Stanwood Terranova
Press Release
•
updated: May 14, 2020
Long-awaited, best-selling book comes at a time when it's needed the most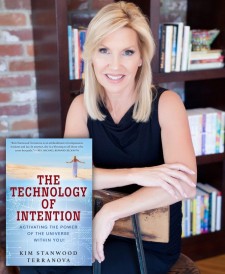 MALIBU, Calif., May 14, 2020 (Newswire.com) - Is there an inner technology that can be a guide in creating a new life? The Technology of Intention: Activating the Power of the Universe Within You! by Kim Stanwood Terranova offers just that guide. Foreword by Rev. Michael Bernard Beckwith, and a best-selling book on multiple lists, Marianne Pestana LLC was honored to announce the release of Terranova's book on April 22, 2020 (DeVorss Publications​).
"Kim is an embodiment of compassion, wisdom and joy. In essence, she is a blessing to all those who cross her path." - Rev. Michael Bernard Beckwith
As a technological society, there is no doubt that devices keep people informed while isolating them from one another and from themselves, their true selves. There is, however, another technology, an inner technology that brings people back to their true selves, while offering the ability to create lives of joy, abundance and wisdom. Terranova calls it The Technology of Intention; she teaches how to tap into this technology and unleash its power. Everyone has this power, they've just forgotten how to use it. Intentions are the pathway to consciously create an intentional life. Intentions are the powerful force that points energy in the direction towards everything desired. Terranova's work and new book are a guiding light in understanding this energy, while giving a simple step-by-step process in igniting that power.
"Kim Stanwood Terranova has a direct hotline to Spirit. Every time I sit with her I learn something about myself." - Kenny Loggins
Kim Stanwood Terranova is committed to guiding people in fulfilling their greatest destiny. As a counselor, coach, speaker, author, and spiritual leader, Terranova has been doing just that for 25 years. She has immersed herself in the study and practice of Universal spiritual truth and wisdom, with a degree in Spiritual Studies, as a licensed Practitioner of Truth, and as one of the Master Teachers at The Agape International Spiritual Center.
Terranova's wisdom and warmth is appreciated as a lead teacher at the elite Rythmia Life Advancement Center in Costa Rica, she was the Spiritual Director of the prestigious Summit Treatment Center in Malibu, California, and as a course creator and teacher of the Spiritual Liberation in Action class for the esteemed Agape University. https://kimstanwoodterranova.com
Source: Marianne Pestana LLC