How to Live When You Want to Die
Press Release
•
updated: Sep 13, 2019
SUICIDE! When the only choice a Mother has is to live, and make sense of an unspeakable grief.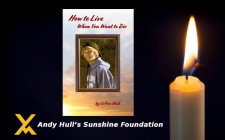 PHOENIX, September 13, 2019 (Newswire.com) - ​​​​​​​​​​​​In "How to Live When You Want to Die," LeAnn Hull opens up about the heartbreaking experience of losing a child to suicide and the subsequent discovery of a purpose-driven conviction to spread love, inspiration and encouragement in the midst of her grief. Her message strikes a welcome chord with anyone struggling through loss or trauma of any nature. Marianne Pestana LLC is honored to announce the release of Hull's book on Sept. 26, 2019.
Hull lost her 16-year-old son to suicide in 2012. Andy was a great student, a star pitcher scouted by major league baseball teams, on his way to becoming an Eagle Scout, and was dearly loved by his friends. Andy's suicide sent a piercing thunderbolt through the hearts of many thousands of people—his family, his friends and his community.
How to Live When You Want to Die is candid about the immense difficulties she and her family encountered after her son's death. Her husband's cancer diagnosis, the loss of friends, and the estrangement of another one of her sons all tested her resolve. Although she still struggles at times, she finds solace in her determination to "not go gentle into that good night." Her tenacity has not only helped her reinvent herself in the face of such adversity, but has given her the patience and drive to carry onward and her mission to help others become hopeful again.
September is National Suicide Prevention Awareness Month
According to the Centers for Disease Control and Prevention in 2017, suicide was the second leading cause of death among individuals between the ages of 10 and 34 in the United States. In 2017, there were an estimated 1,400,000 suicide attempts, and on average there are 129 suicides per day according to the American Foundation for Suicide Prevention.
LeAnn Hull was born and raised in Phoenix, Arizona where she has been married for 39 years and raised four children. While raising their kids, she and her husband, Clay, owned and operated a construction company named Arizona Window Center. Being self-employed allowed her the time to invest in their children's lives and in the community in which they lived. Hull currently speaks at venues including schools, hospitals, military bases and prisons.
Within months of her son Andy's death, LeAnn Hull established Andy Hull's Sunshine Foundation, inspired by her son's nickname, with the goal of sparing even just one person the pain and anguish of suicide. Impacting many children, teens and adults, the Foundation talks about coping skills, triggers, and tools to use during difficult times, all with a "You Matter" approach.
For interviews, editorials, features or speaking inquiries please contact:
Dea Shandera-Hunter
Lead Publicist
747-239-1715
deashandera@yahoo.com
Source: Marianne Pestana LLC
Related Media
Tags
Additional Links