Best-Selling Author Announces an Event-Filled January
Prolific futurist Jack Uldrich to speak at 11 events this month for a variety of industries, including construction, real estate, mining, agriculture and wealth management
Press Release
-
updated: Jan 5, 2018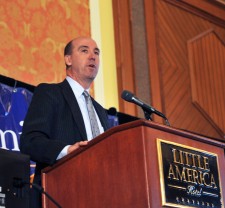 MILWAUKEE, January 5, 2018 (Newswire.com) - Jack Uldrich, a well-recognized global futurist, speaker and author of 11 books, including award-winning bestsellers, will be delivering 11 keynote addresses across the U.S. and Canada this month. 
Uldrich, who is the founder of The School of Unlearning, dedicates himself to helping businesses, governments and nonprofit organizations prepare for and profit from periods of profound transformation.
Uldrich says: "Thinking like a futurist involves appreciating how the world of tomorrow is changing. Far too often companies are fixated on issues that are front and center or, at times, they are stuck dealing with issues from the past. They aren't taking time out to reflect on what the future will hold in store."
According to Uldrich, "New advances in technology bring forth exciting discoveries every day. But often lost in this new reality is the fact that organizations must unlearn old, obsolete knowledge and old ways of doing business before they can seize tomorrow's opportunities." 
To further help leaders in a variety of industries spot trends and opportunities for the coming year, Uldrich annually publishes a list "game-changers." His new list for 2018 can be found here. 
Uldrich's January events include:
Jan. 5: The Future of Construction & Real Estate - Private Client
Jan. 10: Future Trends - Badger Mining - Milwaukee, Wisconsin
Jan. 12: Future Trends in Dairy Processing - Galloway - Neenah, Wisconsin
Jan. 16: Future Trends in Construction - BBE Hydro Constructors - Winnipeg, Manitoba, Canada
Jan. 17: Future Trends in Real Estate -  NAI Carolantic - Raleigh, North Carolina
Jan. 20: Future Trends in Wealth Management - Private Client - Pasadena, California
Jan. 22: Future Trends in Dairy - International Dairy Foods Association - Palm Desert, California
Jan. 24: Future Trends in Agriculture - Harvest Profit - Webinar
Jan. 25: Future Trends in Construction - Jacobsen Construction - Salt Lake City, Utah
Jan. 29: Future Trends in Insurance - Private Client - Park City, Utah
Jan. 30: Future Trends in Economic & Workforce Development - Kentucky Chamber of Commerce - Louisville, Kentucky
Uldrich is a frequent speaker on technology, change management and leadership and has addressed hundreds of corporations, associations and not-for-profit organizations on five continents. He speaks over 100 times each year, specializing in the transformation of health care, agriculture, education, energy, finance, retail and manufacturing. 
For more information on Jack Uldrich's writing and speaking, please view his website.
Source: Jack Uldrich & The School of Unlearning
Share:
---
Categories: Construction, Mining, Real Estate, Dairy Farming, Banking, Finance, Insurance
Tags: Agriculture, Construction, Dairy, Future Technology, Insurance, Keynote, Mining, Real Estate, Speaking, Wealth Management
---