Ben Simkin Shares His Success With the Epoch Times as the Mastermind Expands to the USA
Press Release
•
updated: Apr 19, 2017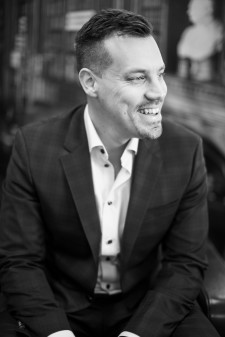 Brisbane, Australia, April 19, 2017 (Newswire.com) - Known globally as a Facebook Marketing extraordinaire, Ben Simkin was recently interviewed by Kean Wong from the New York City based publication, Epoch Times, and was privileged to be the first guest in their inaugural edition of 'STAR Purpose'.
Wong was first curious to hear the background that led Simkin to his billion-dollar success and what supported the success of his two companies, BusinessNET and The Mastermind.
Ben reflects on how at the age of 13 he was given his first computer which he says sparked his deep interest in learning, and from age 13-16 he was already writing software and video games. His intrigue in programming and technology grew strongly which led him to pursue it as a career as an alternative to completing school.
One of Simkin's first big triumphs was restoring a company that had been technologically locked-out from a disgruntled IT manager. Within days, 16-year-old Ben was able to restore access to the companies' computer system, saving the company from losing any further business.
Dropping out of school at age 16 didn't deter his focus. He grew his knowledge further by reading books from his now-mentor Jay Abraham and the widely known book, 'Rich Dad, Poor Dad'.
Simkin's advanced ability in business started from a young age and now aged 34, has generated over $1.45 Billion in sales. From renting email lists as a strategy for lead generation, to being an early adopter in online marketing – Ben has used his curiosity to exponentially grow businesses to new heights.
Simkin's preeminent approach has found him launching The Mastermind to support other entrepreneurs to follow in his success. In just three years, The Mastermind, which was launched nation-wide in Australia, has expanded into the USA with a very successful New York City event recently wrapping up.
"The goal you have for your lifetime can be achieved in a much shorter time-frame, if you have the right people around you." – he told Wong.
As more and more people leave 'regular' working environments to launch their own entrepreneurial journeys, Simkin highlights that being part of a Mastermind is a must for entrepreneurs and home-based business owners who are often isolated working on their own, he shares his top 3 benefits of being in his mastermind:
Getting access to what we're doing with multi-million dollar companies – Real life, practical ideas for big results
'Force multiplier effect', getting insight from many different successful companies
Friendship - a group of people who can relate to what you're experiencing, but also enjoy themselves
The members of Ben Simkin's Mastermind can only speak highly of the outcomes they receive by being members, and the results speak for themselves as Ben shares 95% of people who first joined The Mastermind have stayed to date.
To watch the full interview and receive all the insights Ben Simkin and Kean Wong share in the Epoch Times, visit: www.theepochtimes.com/n3/2240298-whats-your-star-purpose-facebook-marketing-genius-ben-simkin/
Ben Simkin also provides an array of content and entrepreneurial support on his active Facebook Page – keep up to date with Ben and his work by following him, www.facebook.com/BenjaminSimkin.
Source: Ben Simkin
Additional Links