Bebot: World's 1st AI Chatbot for Drivers Now Available at Both Tokyo Haneda and Narita Airports
Japanese car rental giant Park24 brings a new digital experience for foreign visitors with a portable AI concierge.
Press Release
-
updated: Jan 10, 2018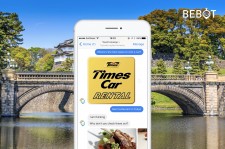 TOKYO, January 10, 2018 (Newswire.com) - Bespoke Inc. today announces the next stage of its collaboration with Times Mobility Networks Co., Ltd. ("Times"), a subsidiary of Park24 Co., Ltd., to offer AI chatbot concierge Bebot to all customers. In June 2017, Times became the first car rental agency in the world to offer an Artificial Intelligence (AI) service with Bebot, giving drivers access to a portable concierge in English and Chinese. Due to its success and popularity with visitors at Tokyo's Narita International Airport, Bebot will now also be available for all Times customers arriving at Tokyo's Haneda Airport. Tokyo Haneda is the primary base for Japan's two airlines, All Nippon Airways (ANA) and Japan Airlines (JAL).
Once customers register at respective Times counters, Bebot is immediately available for their personal use. Direct from within each customer's preferred instant messaging platform, Bebot uses advanced AI technology to provide road directions, recommendations to local restaurants and guides to local attractions. Times can also learn customers' preferences from Bebot's chat history.
Bebot's AI technology has been developed using both human chat services and AI developed by Bespoke Inc. Users can ask specific questions related to their travel plans by chat, and receive tips, directions and reviews without leaving the chat screen. First launched in April 2017, Bebot already provides AI-powered concierge services in hotels across Japan, and launched its Narita International Airport service in November 2017. It launched its first car rental concierge together with Times at Narita Airport in June 2017.
Customers of Times car rental will be provided with a Bebot that mirrors the capabilities of a personal concierge. Available in English and Chinese language, it is designed to help break the language barrier to provide a smoother traveling experience for visitors. Travelers will have access to exclusive recommendations in Japan and easy to follow road directions. All communication with Bebot is done through the traveler's preferred messaging platform, so there is no need to download additional apps or switch between multiple browser windows.
Bebot will be offered at Tokyo Haneda Airport via Times Mobility Network Service's Times Car Rental from January 9, 2018, – just ask at the Times car rental desk.
About Bespoke Inc.
Tokyo-based Bespoke Inc. is a leading developer of Artificial Intelligence (AI) technology, focused on providing ease of access to information, local recommendations, and multi-lingual solutions for travellers and guests to new destinations. With products including Bebot, the AI concierge, and LEVART travel community, Bespoke Inc. has developed tailor-made AI products for clients including Holiday Inn, Sofitel Hotels & Resorts, Narita International Airport, and has users from over 100 countries.
About Times Mobility Networks Co., Ltd.
Times Mobility Networks Co., Ltd. is a subsidiary company of PARK24 Co., Ltd. Since its founding in 1965, it currently counts 444 branches nationwide. The services include car rental, car sharing and secondhand car sales. Times Car RENTAL is the car rental service by Times Mobility Networks Co., Ltd.
Media Contact:
Kaito Watanabe
Email: press@be-spoke.io
Source: Bespoke Inc.
---
Categories: Artificial Intelligence and Expert Systems, Internet, Travel, Transportation, and Hospitality News
Tags: airbnb, automated messaging, Bebot, bespoke, chat concierge, guest experience, hotel bot, hotel chatbot, smart hotel
---