Batch #63 Hand-Painted Pots Latest Addition to Line of Handmade Pottery From Gaia
Artisan craftsmanship is once again at its finest in handmade goods company Gaia's newest offering.
Press Release
-
Feb 3, 2016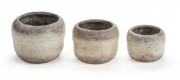 United States, February 3, 2016 (Newswire.com) - This week the company announced the release of its Batch #63 Hand Painted Pots, a rustic trio of pieces that typifies Gaia's devotion to creating unique pottery that elevates and personifies unique, handmade cuisine.
According to the Batch #63 product description, each of the pieces of pottery were fashioned from cement.
"Each piece is polished and hand painted with a matte glaze," the description reads.
Gaia is a company who focuses on creating small-batch pottery as opposed to the mass-produced dinnerware that has flooded the market. That focus is certainly evident in Batch #63. Photos of the pots published online are a marvel of handcrafted creativity.
The pots are a trio of a small piece, a medium-sized piece and a large piece. The top edge and bottom edge of the pots have a slightly darker, almost grey appearance as compared to the concrete-white tone of the body of the pots.
What is most beautiful about these pieces is the irregularities infused into each pot. Gaia values these irregularities, as they are a distinct departure from the cookie-cutter, mass-produced pieces from which they've intentionally moved away.
The Batch #63 photos reveal these intentional variations. The darker rims are speckled with white and black accents that vary from pot to pot. The shape of each pot is also different, a testament to the handmade nature of the pieces.
It's as if the customer can see each movement of the potter's hand as he or she painted each pot to match his or her vision.
Batch #63 is one of six new pottery debuts from Gaia in the past few weeks. Several of the pieces are hand-glazed, while others are hand painted.
Among the new pieces are a pair of hand-glazed vases featuring a stunning turquoise color, an algae-green hand-glazed pottery set reminiscent of the ancient ruins of Angkor Wat and another hand-glazed set whose faded turquoise-green coloration transports their owner to the ancient hills of the Far East.
While the company doesn't adhere to any one style of pottery, a bent toward the ancient Far East is evident in their products.
Also evident is the company's commitment to rustic, aged pieces that offer homeowners a chance to get hands on with small-batch items crafted by skilled potters.
According to the company's website, part of the intention behind their unique pieces is to offer consumers an artisan piece of kitchenware they can use knowing their pottery was made from natural materials, expert artistry and environmentally-friendly techniques.
Each piece from Gaia is fired at more than 2,000 degrees Fahrenheit to ensure maximum durability.
The pieces range from $148 to $332 and each can be purchased on the Gaia website. The Batch #63 Hand Painted Pots are available for purchase for $274.
Click here to learn more about Gaia's creative process.
Contact
Website: www.gaiacollection.com
Share:
---
Categories: Arts and Entertainment, Hobbies and Crafts, Home
---