Gripbell, the World's First 3-in-1 Workout Equipment to Launch on Kickstarter
Gripbell, which has been utilized by Nyle DiMarco, America's Next Top Model Cycle 22 winner, will launch February 2, 2016 on Kickstarter.
Press Release
-
updated: Jan 19, 2016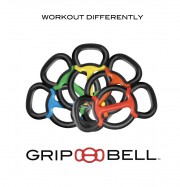 Pleasanton, CA, January 19, 2016 (Newswire.com) - ​BarXbell, LLC is planning the launch of a new innovative 3-in-1 universal fitness product, Gripbell, that does everything needed to challenge the body. Gripbell has been used by Nyle DiMarco, America's Next Top Model Cycle 22 winner, who is also highlighted in the company's latest viral campaign.
"When I first saw Gripbell, I was not only amazed by its complex design, multiplying possible workout moves, but by its exhaustion while working out. It is the real deal," says Nyle DiMarco. 
Gripbell is designed to let the user do more in their fitness routine with less. It can be utilized for any stage of fitness from pros to amateurs of all ages. There's no limit to what the Gripbell can be utilized for including stretching, physical therapy, strength exercises, yoga, dance, aquatics, oar-rowing routines, and more. Its design allows the user to easily exercise with the Gripbell indoors or outdoors, at home and even take it while traveling.
Aaron C. Wright, professional personal trainer and creator of the Wright Now Fitness System had the chance to workout and exercise with the Gripbell.
"The Gripbell is an innovative, versatile piece of exercise equipment and can perform many exclusive workout movements," says Wright, CSCS, CMES, CPT. "It can be used in the place of a dumbbell, but has the benefit of multiple grip positions that a dumbbell does not have. The Gripbell is easier to handle while performing typical kettlebell exercises. Additionally, the Gripbell has multiple hand positions that a kettlebell does not. Another unique feature of the Gripbell is that it can be used for two-handed exercises in addition to one-handed movements."
Designed to be safer and more versatile than traditional kettle bells, Gripbell has perfectly distributed weight so the user can challenge themselves to more intense routines without worrying about losing control of the equipment.
Similar to free weights, Gripbell provides unstable force, the key to effective strength training. It is easy on the skin and hands. There is no direct contact with metal or hard materials, which means there's a lot less chance of the equipment slipping from the user's hands and hurting them.
This was the very reason why Gripbell was created. Mark Wood, inventor of Gripbell and CEO of BarXbell, LLC, had an accident with a kettlebell, which hit is knee during a kettlebell exercise routine. Fortunately, Wood was not seriously injured but the incident led him to visualize the design of Gripbell to be safer, convenient to use, playful and versatile at the same time.
"Gripbell's design is all about becoming one with the body," says Wood. "Although easy to use, it provides an incredible workout. Thanks to Gripbell's dynamics, the burn factor is multiplied several times in your workouts. Many people who tried out our lighter weights were shocked how challenging the workout was on their bodies." 
Gripbell's internal frame is made of recycled cast iron with the cores of the lightest two weights, three and five pounds, made of solid PVC. Gripbell's exterior is molded-over hypoallergenic polyurethane allowing every grip position to feel exactly the same. All the weights offered, 3,5,8, 10 and 12 pounds, are all exactly the same physical size and shape, which allows the user's muscles to focus on getting stronger rather than relearning and remastering each time the weight level is increased.
BarXbell, LLC will launch Gripbell through a Kickstarter campaign on February 2, 2016. For the opportunity to pledge, learn about upcoming contests and more, please visit Gripbell.com.  
About BarXbell, LLC
BarXbell, LLC, established in 2015, has developed the Gripbell to replace the existing dumbbell, barbell and kettlebell workout equipment. Gripbell is an innovative 3-in-1 workout equipment that delivers far more workouts than meets the eye.
Contact Information
Share:
---
Categories: Sports, Fitness, and Recreation, Exercise and Physical Fitness, Sports
Tags: fitness, gripbell, workout
---