Avenga Won Bronze in 2021 International Business Awards®
Press Release
•
updated: Aug 19, 2021
Avenga's product Couper.io received the Bronze Stevie® Award in the Business-to-Business Products category of the 2021 International Business Awards®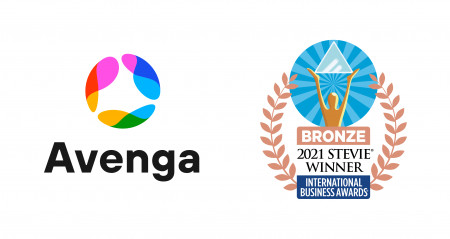 ROCHELLE PARK, N.J., August 19, 2021 (Newswire.com) - Avenga, a global technology and service integrator with a focus on digital excellence, won the Bronze Stevie® Award in the 18th annual International Business Awards®.
Couper.io, an open-source API gateway developed by Avenga, helps organizations improve their customers' digital experience, modernize IT, and secure interfaces. During the 2021 International Business Awards® Couper.io won the Bronze Stevie® Award for Avenga. A complete list of all the 2021 Stevie® Award winners by category is available at www.StevieAwards.com/IBA.
"It's a great privilege for the Avenga team to be recognized as a leader among the top global business-to-business products. We would like to thank our clients for the opportunity to work together with them on their many exciting and formidable projects that benefit from the use of our products, especially Сouper.io.
Through our products, we set cutting edge trends, profound expertise and quality - all repeatable in projects available to our customers. As a result, we are faster in implementation, and the 'product mindset' at Avenga gives our customers the necessary edge over the competition. All of this helps us to stand out in the modern market." - Roland Guelle, VP of Technology at Avenga.
The International Business Awards® are the world's premier business competition. The Stevie® Award honors the achievements of organizations and working professionals worldwide. This year, more than 260 executives worldwide participated in the judging process of more than 3,700 nominations from different organizations.
"What we've seen in this year's IBA nominations is that organizations around the world, in every sector, have continued to innovate and succeed, despite the setbacks, obstacles and tragedies of the ongoing COVID-19 pandemic. All of this year's Stevie Award winners are to be applauded for their persistence and their resilience." - Maggie Gallagher, Stevie Awards President.
About Avenga
Avenga is a global IT and digital transformation technology company with over 20 years of experience in the market. The Avenga team consists of 2500 professionals in offices across Europe, the USA and Asia and they help clients obtain confidence that their technology-enabled projects will succeed.
The Stevie® Awards are the world's premier business awards. They were created to honor and generate public recognition of the achievements and positive contributions of organizations and working professionals worldwide. Stevie Award judges include many of the world's most respected executives, entrepreneurs, innovators, and business educators.
Source: https://stevieawards.com/iba/2021-stevie-award-winners