Avenga Advances in Salesforce Excellence
Press Release
•
updated: Feb 8, 2021
Avenga tops the Clutch Leaders Matrix of Salesforce Consulting Companies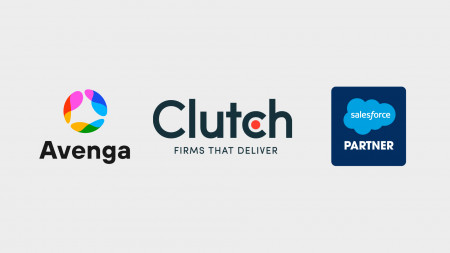 NEW YORK, February 8, 2021 (Newswire.com) - Avenga, a global technology and service integrator with a focus on digital excellence, is listed as the Top Salesforce Consulting Company by Clutch, a unique ratings and reviews platform for IT, Marketing and Business service providers.
Clutch can be an unbiased catalyst for navigating business partnership decisions, since their evaluation is based on verified client reviews, brand reputation, and proven quality delivery, meaning that only the best companies rank as leaders in their segments.
Avenga has been empowering clients from a whole range of industries like Pharma, Finance, Banking and Insurance to leverage digital assets by actualizing Salesforce Platform capabilities into quality deployment and timely project implementation.
"It is an honor for Avenga to be so highly appreciated by our clients and to share such a positive experience with them. We are committed to continued accomplishments and excellence in growing successful businesses while delivering customer success. After all, our clients are at the heart of everything we do," comments Jan Webering, Group CEO at Avenga.
The written client reviews are published on Avenga's profile on Clutch. Avenga clients shared:
Salesforce Migration & Development for Milrose Consultants, "The most impressive thing is their ability to pick up new technologies really quickly and get them working to our specifications." -Allan Fraser, Director of Information Technology, Milrose consultants.
Despite its successes, Avenga tirelessly continues to expand its capabilities across the Salesforce Platform, achieving new Salesforce partnership milestones.
In January 2021, Avenga became a Salesforce Partner, a status which clearly demonstrates the ability to meet evolving needs in today's dynamic cloud ecosystem, as well as an acknowledgment of its in-depth expertise, numerous certifications and glowing customer references.
In response to the announcement, Jan Webering, Group CEO at Avenga shared,
"We are very proud that our team of experienced professionals has been welcomed into the Salesforce Partner Program. Having been a Salesforce development and integration company for nearly a decade now, we continue pushing ourselves to be even better while taking on the latest technologies within the Salesforce community. The partner program would help Avenga's seasoned Salesforce certified experts to practice an even more focused approach in assisting clients with increasing the value of their Salesforce investments."
Avenga earns its distinction through demonstrated technology successes and customer commitment. They continue to expand their digital offerings with Salesforce by also broadening their expertise with the MuleSoft Platform, Tableau analytics platform and building apps for the Salesforce AppExchange, which enables Avenga to build its full-house expertise and enhance services delivery across the entire Salesforce ecosystem. This keeps Avenga's position as a Top Salesforce Consulting Company and helps the company to stand out in this highly competitive market.
As of today, Avenga has 100 + successfully delivered projects along with 120 Salesforce experts with more than 270 Salesforce certificates, providing effective Salesforce services, such as Salesforce administration, consulting, configuration, integration, product development, implementation, customization, training and support.
Source: Avenga
Related Files