Author Pam Carson's New Book, 'Through a Child's Eyes: Christian Parenting From Infancy to Five Years,' is a Spiritual Guide to Instilling Faith in Young Ones
Press Release
•
Jun 30, 2022
Recent release 'Through a Child's Eyes: Christian Parenting from Infancy to Five Years' from Covenant Books author Pam Carson is a faith-based roadmap that displays how parents can lay the seeds for their children's spiritual growth in their formative years and create a foundation that will pave the way for the rest of their lives.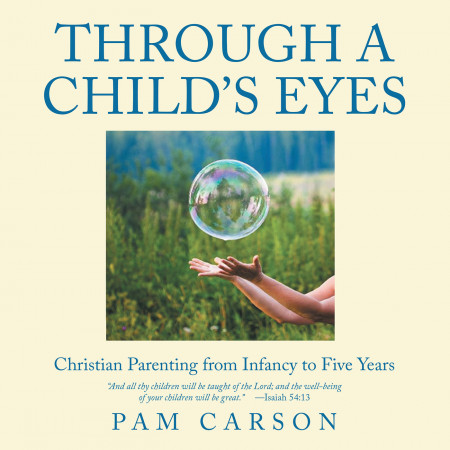 PAWLEYS ISLAND, S.C., June 30, 2022 (Newswire.com) - Pam Carson, a passionate educator who worked with children for half of a century and prides herself on helping families understand the way their child learns, has completed her new book, "Through a Child's Eyes: Christian Parenting from Infancy to Five Years": a faith-based roadmap to parenting young ones.
Carson shares, "A child's early years lay the foundation for nurturing a child's faith and planting the seeds of how they are valued in God's eyes. The insights of how children think and how they process the world around them help us to meet their needs while building trust. The first five years form the basis for this trust. They are learning everything—from walking, talking, understanding, feeling, learning right from wrong, and mastering the English language. They live in a world of fantasy where anything is possible. Children tend to believe anything we tell them without question! That is why we must be especially careful what we say to them.
"Self-evaluation of our personalities, our journey through life, and how all this has molded our faith and affected our communication can help us raise our children. We can learn to be more sensitive to the little soul God has given us. These little ones are like a new journal, and as parents, we get the blessing to write on the first pages of a child's life. These are the tender years. These years are the foundation of a child's view of themselves, their faith, and the world around them."
Published by Covenant Books of Murrells Inlet, South Carolina, Pam Carson's new book paves the way for parents to nurture their young child's growth as a moral human and faith-filled Christian.
Readers can purchase "Through a Child's Eyes: Christian Parenting from Infancy to Five Years" at bookstores everywhere or online at the Apple iTunes store, Amazon or Barnes and Noble.
Covenant Books is an international Christian-owned and operated publishing house based in Murrells Inlet, South Carolina. Covenant Books specializes in all genres of work that appeal to the Christian market. For additional information or media inquiries, contact Covenant Books at 843-507-8373.
Source: Covenant Books