Austin Electric Vehicles Names Tony Saxton as CEO
Transportation, Energy and Renewables Executive Helms Maker of Commercial Electric Vehicles, Names New Executive Team and Raises Capital
Press Release
-
updated: Sep 14, 2017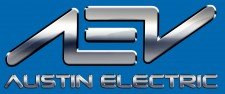 AUSTIN, Texas, September 14, 2017 (Newswire.com) - Austin Electric Vehicles, (austinelectric.com), a developer of compact, emissions-free vehicles for the urban commercial and consumer markets, announced that Tony Saxton, the veteran Cleantech investor and successful innovator of renewables technologies, has been named the CEO of the Company.
Austin Electric's light electric vehicles address a rapidly growing need for clean, affordable transportation solutions within urban and small regions. Austin Electric's logistical vehicles can be adapted for the broadest range of commercial and consumer uses, including the delivery of goods and services, local transportation services and enterprise scale fleet transportation services for public and private sector entities.
"Austin Electric's capabilities and value proposition are very compelling," said Tony Saxton, the CEO of Austin Electric Vehicles. "Where many of our competitors still have incomplete supply chains, we're building affordable, emissions free vehicles made specifically for urban and short haul transportation — the fastest growing vehicle class within the transportation market," Saxton said.
"Our vehicles are designed and assembled right here in Austin, and sustainability informs every aspect of our work, from the revitalized warehouse we transformed into a state of the art production facility, to the processes we use to build out the Metro — our flagship vehicle — as well as the other models that Austin Electric will debut within the near-term," Saxton said.
Saxton highlighted how Austin Electric's partnerships have laid the groundwork for strong, sustained growth.
"We have a supply-chain partnership with the Cenntro Automotive Group," Saxton said. "We've also built up partnerships with companies with formidable distribution networks within the Utilities, Hospitality and Automotive sectors."
"I'm also very proud of the senior management and strategic team that we're building at Austin Electric," Saxton said. "Our management, marketing and production teams include leaders such as:
Peter Sprague, the former owner and Chairman of Aston Martin Lagonda Ltd., and Al Kammerer, the former head of Product Development for Ford Land Rover Jaguar.
Scott R. Snow, Commander USN (ret), the former Head of Operations for U.S. Naval Strike & Air Warfare. Scott will help oversee Austin Electric's operations, government distribution and dealer partnerships.
Andrew MacLellan, the President of Discovery Destinations and the former head of operations for Westin International Resorts. Andrew will help Austin Electric with our distribution within the global hospitality sector.
Paul B. Savoldelli, who is the former Head of Global Operations for Hicks, Muse, Tate & Furst and Ben Rogers, the Founder of Broadscale. Both Paul and Ben will advise Austin Electric on corporate finance matters."
About Austin Electric Vehicles
​Austin Electric Vehicles, (austinelectric.com), designs and delivers compact, emissions-free vehicles for use within urban and short-haul markets. Capable of accommodating a broad range of commercial and consumer requirements, Austin Electric's vehicles are the emerging leaders of safe, affordable, efficient and sustainable logistical transportation. Discover more about Austin Electric Vehicles at austinelectric.com.
Media Contact:
LD Snow​
​lsnow@terrags.com
Source: Austin Electric Vehicles
Share:
---
Categories: Transportation and Logistics, Automotive, Travel, Transportation, and Hospitality News
Tags: Clean Energy Transportation, Cost-efficient Transportation, Electric Vehicles, Emissions-free, Light Vehicles, Logistical Vehicles, Renewable Solutions, Sustainable Solutions
---