Terra Global Solutions and Austin Electric Vehicles Form Joint Partnership With Adventure Tourism Leader Discovery Destinations
Hospitality Group Will Use Austin Electric's Clean Transportation, Terra's Renewable Solutions To Enhance Guest Experiences.
Press Release
-
updated: Sep 27, 2017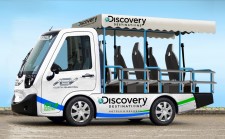 AUSTIN, Texas, September 27, 2017 (Newswire.com) - Terra Global Solutions (www.terrags.com), a leading developer and integrator of renewable energy-based transportation, power generation, lighting, water purification, communications and safety solutions, together with Austin Electric Vehicles (www.austinelectric.com), a developer of compact, emissions-free vehicles for the urban commercial and consumer markets, announced that both companies have forged a joint strategic partnership with Discovery Destinations Hotels and Resorts (www.discoverydestinations.com). Discovery Destinations is an innovative hospitality group whose global portfolio of unique hotels and resorts immerse guests in a region's history, culture and opportunities for exploration.
Discovery Destinations will utilize the full range of Austin Electric's clean energy vehicles and Terra's transportation, energy generation and communications solutions, which will enhance the ability of guests at many Discovery Destinations properties to engage in the most challenging on and off-grid exploration activities — from scuba diving to hiking, climbing and eco-travel.
"For many years, Terra's equipment has helped enable the success of America's most rugged and renowned athletes and adventurers — champions such as caving enthusiast Tiffany Nardico, filmmaker Devon Chivvis and many others," said Tony Saxton, CEO of Terra Solutions. "Now, the full range of the sustainable transportation, energy, water, lighting and safety solutions offered by both Terra and Austin Electric — each trusted for their resilience and tested within some of the Earth's harshest environments — are now available to guests at Discovery Destination's hotels and resorts. We're confident that Austin Electric's vehicles, together with Terra's specialized equipment, will help many Discovery Destination's guests craft the adventures, and indeed, the memories of a lifetime," Saxton said.
"We are delighted to partner with Terra Global Solutions and Austin Electric Vehicles in providing our member properties with state-of-the-art solutions, allowing our hotels and resorts the ability to better serve the customers and provide a more efficient and safe experience," stated Andrew MacLellan, President of Discovery Destinations. Austin Electric's vehicles and Terra's products will be available for use at select Discovery Destinations hotels and resorts by the end of 2017.
 
ABOUT TERRA GLOBAL SOLUTIONS:
Terra Global Solutions is a Sustainable Integrated Solutions Company. Working with a highly selective portfolio of technology innovators, Terra specializes in the procurement and implementation of sustainable energy storage/generation, transportation, water purification, lighting, communications and safety solutions. A significant number of Terra's solutions utilize renewable sources of power. Terra's solutions can be customized to meet the most complex requirements and scaled to support the largest enterprise and manufacturing operations. Read more about Terra's energy, transportation, life, safety, security and expeditionary solutions at: https://www.terrags.com
ABOUT AUSTIN ELECTRIC:
Austin Electric Vehicles designs and delivers compact, emissions-free vehicles for use within urban and short-haul markets. Capable of accommodating a broad range of commercial and consumer requirements, Austin Electric's vehicles are the emerging leaders of safe, affordable, efficient and sustainable logistical transportation. Discover more about Austin Electric Vehicles at: http://austinelectric.com
ABOUT DISCOVERY DESTINATIONS:
Discovery Destinations Hotels and Resorts is a collection of distinct, independent destination properties uniquely positioned to deliver guests an extraordinary experiential vacation. Discovery Destinations ignite curiosity, adventure, exploration, immersion and discovery. Join us on a discovery of the greatest experiences the world has to offer. Learn more about Discovery Destinations at: http://discoverydestinations.com/index or call 844.934.7268
Media Contact:
LD Snow
210.862.6684
lsnow@terrags.com
Source: Terra Global Solutions
Share:
---
Categories: Alternative Energy, Automotive, Hospitality
Tags: adventure travel, clean technology, clean transportation, conservation initiatives, electric vehicles, environmental initiatives, expeditionary, logistical vehicles, renewable solutions, resort transportation, safety solutions, sustainable solutions
---