Attractions Industry Goes DIY at ISF Tradeshow
As the demand for more attractions increases, the ability to stay within a budget is nearly impossible. Do-it-yourself attractions such as the Mission Impassable Laser Maze were evident at this year's Showmen's Federation trade show.
Press Release
-
Feb 23, 2016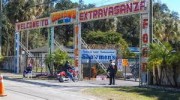 TAMPA BAY, FL, February 23, 2016 (Newswire.com) - ​The super trade show extravaganza once again had hundreds of attractions and exhibits to browse along with a few new concept attractions such as do-it-yourself amusements  and rides which could save a company over 50% in attraction costs. 
One company, Mission Impassable by Agex Technologies, actually held 2-hour workshops to walk people through the installation of their Laser Maze attraction which has become a popular attraction at family entertainment centers, amusement parks as well as fairs, carnivals and private parties.
"Typically, an amusement company can expect to spend upwards of $30,000 for a laser maze game in a mobile trailer and over $25,000 in a static locations, said Gregory Davies, sales director for Mission Impassable.  "Doing the installation yourself can easily save you 75% with the typical installation taking half a day.  There are no missing features either, our mazes come complete with everything including a 5 year warranty!"
Immediately after their workshop, attendees were allowed to have some fun in the maze, followed by a quick recap of the installation and breaking down the equipment only to start all over again.  The Mission Impassable Laser Maze won this  year's award for greatest value as well as best in show overall.
The Best New Ride this year at the show was the Spin Zone built by Amusement Products.  The ride is a trailer mounted bumper car ride but the cars have founded seats that spin as they move.  The actions of the car are controlled by the operator. 
Gold Star Amusements with a Puppy Roll, Sherwood Amusements with their Expo Wheel ARM, were honorable mentions as well.
The Green award go to Berk, recognizing the need for greener packaging, launched an Environ line of cutlery and tableware.  Berk realized it was time to launch an entire line of earth friendly products that were not only biodegradable, but also compostable, therefore suitable for inclusion in food waste recycling.
The trade show closed on Saturday, February 8th and
Share:
---
Categories: Emerging Businesses, Entrepreneurship, Amusement and Theme Parks
Tags: Attractions, Fair, Laser Maze, Mission Impassable Laser Maze, Party Entertainment
---