Athena Rae Thompson's New Book 'The Mermaid of Amphilora' is an Enchanting Tale of a Mermaid and Her Headstrong Desire to Be Independent
Recent release "The Mermaid of Amphilora" from Covenant Books author Athena Rae Thompson is a bewitching story of an extraordinary mermaid who is caught in a circumstance that tests her resolve and defines her character.
Press Release
-
updated: Feb 26, 2020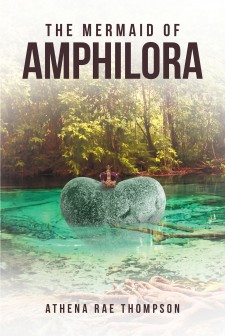 NEW YORK, February 26, 2020 (Newswire.com) - Athena Rae Thompson, a housewife, an ardent reader, and a student taking up a BA in English, has completed her new book, "The Mermaid of Amphilora": an entrancing narrative about a mermaid princess whose uniqueness and status becomes her inspiration to break out and be self-reliant.
Athena writes, "Princess Seira of Amphilora is one of the rarest mermaids in the underwater world of Mer, and as such, she is restricted to the palace and palace waters for her safety. While all the other merfolk have the same color of eyes as their tail scales, Seira's eyes are azure with tail scales that are typically yellow with a golden tint. What makes her even rarer and more unique is the fact that her tail scales change color with her mood. With her second to last chance at staying in Amphilora being a marriage to Barracudon, the oldest prince of a kingdom on the other side of the ocean and her exact opposite, Seira's not happy. She likes to break the rules; he's a stickler for following them. She loves to make herself happy before doing what is required from her position; he prefers to do what his position demands and forget about his happiness.
"Can the two of them find some kind of even ground that allows Seira to stay in Amphilora, or will she get tired of being treated like her father's precious artifact and swim to shore?"
Published by Covenant Books of Murrells Inlet, South Carolina, Athena Rae Thompson's new book beholds captivating scenes of underwater magic and allure that will fill readers with the unknown beauty of the mysterious deep.
This book also treasures pearls of wisdom on grace, self-belief, and integrity in facing life's challenges.
Readers can purchase "The Mermaid of Amphilora" at bookstores everywhere or online at the Apple iTunes Store, Amazon, or Barnes & Noble.
Covenant Books is an international Christian owned and operated publishing house based in Murrells Inlet, South Carolina. Covenant Books specializes in all genres of work which appeal to the Christian market. For additional information or media inquiries, contact Covenant Books at 843-507-8373.
Source: Covenant Books
Share:
---
Categories: Books
Tags: "The Mermaid of Amphilora", Athena Rae Thompson, Covenant Books
---