Atheists, Agnostics and Humanists to Take Leading Role in Memorial Day Flag-Laying
Press Release
-
updated: May 23, 2017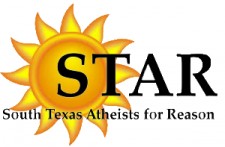 San Antonio, Texas, May 23, 2017 (Newswire.com) - Take ​Atheists to Trake Leading Role in Flag-Laying at National Cemetery in Preparation for Memorial Day Weekend
South Texas Atheists for Reason (STAR) will lead flag-laying on military graves at Fort Sam Houston National Cemetery (1520 Harry Wurzbach Rd, San Antonio, TX 78209) on Friday, May 26th at 5 p.m., in preparation for the Memorial Day Weekend ceremonies. Volunteers from STAR will also be joined by others in the San Antonio Coalition of Reason and the Military Association of Atheists and Freethinkers (MAAF) as they help others pay respect for our fallen patriots.
Vicki Gettman, the Executive Director of STAR and the 2016 recipient of the American Humanist Association's President's Award, gave a description of this service to all veterans. "Most members of STAR, as well as our friends, served in the military, and some of us have friends that made the ultimate sacrifice while on deployment to places like Iraq or Afghanistan. We owe it to them and all of our fallen comrades to take time each day but especially Memorial Day weekend to honor them with our love and respect." 
Gettman also added, "Members of STAR are tired of hearing the phrase "There are no atheists in foxholes" because, through many years of honorable service, women and men who have expressed no belief in deities have fought and died to uphold and protect the United States and its Constitution. This is a Constitution that represents everyone, not just a select few." Gettman concluded, "Bravery in the face of danger does not require a belief in a deity, and STAR is going to Fort Sam Houston National Cemetery to respect all of our veterans, regardless of their personal beliefs. As the Armed Forces Chaplains Board has finally recognized Humanism as a sincerely-held belief, we are putting our belief for the respect for all into action this coming Friday."
# # #
South Texas Atheists for Reason—STAR (www.southtxatheistsforreason.org) was created by secular families for secular families. The founders wanted a positive environment to live their own truths without judgement, without fear of retaliation, and with real support without religion. STAR's purpose is to be a support group, friendship circle, and positive place to be where you feel comfortable to be your authentic self. STAR recognizes that everyone has challenges in life and they have found that people deal with the challenges more effectively with a positive, supportive group of people who truly care, and we can do it without a belief in a deity.
San Antonio Coalition of Reason (www.sanantoniocor.org) is made up of atheist, freethought, and humanist groups working together in the Greater San Antonio area. Our twin goals are to foster a sense of community among the like minded and raise public awareness that people who don't believe in a god or gods can be decent citizens who contribute to the larger society.
The Military Association of Atheists & Freethinkers (www.militaryatheists.org) builds community for atheists and humanists in the military. MAAF connects military members from around the world with each other and with local organizations. In addition to our community services, MAAF takes action to educate and train both the military and civilian community about atheism in the military and the issues that face them. Where necessary, MAAF identifies, examines, and responds to insensitive practices that illegally promote religion over non-religion within the military or unethically discriminate against minority religions or differing beliefs.
United Coalition of Reason (www.UnitedCoR.org), headquartered in Washington, DC is committed to promoting science and reason, nurturing unity and developing cooperation within local communities. They donate time, resources and cutting edge technology to help a variety of local non-theistic groups grow their presence, expand their outreach and present a positive face for non-theism by doing good together.
# # #
For more information, contact:
Vicki Gettman
Executive Director, South Texas Atheists for Reason
southtexasatheistsforreason@gmail.com
(210) 904-7199
Source: South Texas Atheists for Reason
Share:
---
Categories: Military and Defense, Religion, Local News, Conventions, Trade Shows, Meetings and Events
Tags: agnostic, atheist, chaplain, freethinker, humanist, Memorial Day, military, secular, skeptic, South Texas Atheists for Reason, United Coalition of Reason, Vicki Gettman
---