Are Big Law Firms Better?
Press Release
•
updated: Mar 27, 2018
"Big Law simply isn't big enough." - Toby Unwin, Premonition Co-Founder & CIO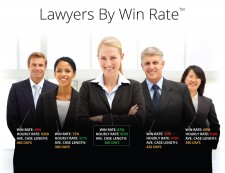 Miami, Florida, March 27, 2018 (Newswire.com) - Miami-based software firm Premonition AI recently released a new report called How Good Are the Big Law Firms? that questions how well America's largest and most prominent practices stand up against smaller competitors. The report, which is free to download from Premonition's website, is based upon the company's analysis of millions of courtroom records held in its database. The company claims to be among the first to be able to show clients how often a given lawyer or firm wins their cases, and to forecast their likelihood of continuing to win in the future. The report argues that while Big Law firms as a whole perform slightly better (+6.98%) than small firms, clients that limit their search for representation to include only the giants are statistically unlikely to get the best service available.
Performance Differentials
Not all Big Law firms are made equal. The report, which uses the Miami-area over the past three years as its case study, finds that among the biggest operators in the region, performance varies widely. One firm posted a 93.51% win rate during the study period, while another literally never won a case that made it to court. Not only that, but in many cases there's no guarantee that clients who do choose to work with a Big Law firm will find themselves represented by the best lawyer in that practice. Premonition claims there is little correlation between a lawyer's skill as a litigator and the size of their firm.
Flawed Traditions
"We've found that the Big Law firms' choice of whom to hire is actually 38% worse than a random selection," says Unwin. "The report goes into some of the main reasons for this, but the main one is that they pay heed to conventional wisdoms that the numbers simply don't back up."
The report cites Big Law's over-reliance on the perceived quality of a candidate's alma mater and scholastic achievements versus indicators of their ability in the courtroom. The top firms tend to compete over the same pool of blue chip prospects, driving up prices that are then passed on to clients. Meanwhile, talent that doesn't conform to traditional notions of who will make a good attorney is overlooked.
"Women, for example, have been shown to be exceptionally under-utilized as litigators," says Unwin. "We've found that women partners win 12% more than their male colleagues, despite making up a vastly smaller proportion of Big Law partners overall. When the predominantly white male decision-makers at these firms stop simply hiring people who look like them and come from similar backgrounds, they'll start to make better hires. In our opinion, legal analytics are the best way to remove the scales from their eyes."
Limited Selection
The meatiest section of the report is devoted to examining the relationship between judges and lawyers. These pairings have been found to have the strongest predictive value for legal analytics software. The report considers a selection of Miami judges and the top 20 lawyers in their courts by win rate. Of these top candidates, only 7.7% work for Big Law firms. Before fully one-third of judges in the area, none of the top 20 worked at Big Law. Because the vast majority of lawyers do not work for these giants, the numbers suggest that clients who don't shop around limit their selection unnecessarily by excluding the 92.3% of winners who work for small law.
Impact of Legal Analytics
The goal of How Good Are the Big Law Firms? is not to cast aspersions on the quality of services offered by prominent firms, but rather to re-center the question of service quality on lawyers rather than their practices. Premonition argues that by using analytics tools to compare historical win rates with billing rates, clients are able to make the best selection for the particulars of their case. The company claims their tools can swing a client's probability of victory from 50/50 to 80/20.
"This is about finding the very best lawyer possible, be they a Big Law partner or a stripmall superstar," says Unwin. "The AI doesn't care about anything else."
Contact:
Nathan Huber
Premonition L.L.C.
Business Development Director
nh@premonition.ai
(615) 364-0924
Source: Premonition Analytics