APrivacy Launches First of Its Kind APrivacy Bot on WhatsApp for the Financial Service Industry
Press Release
•
updated: Aug 9, 2018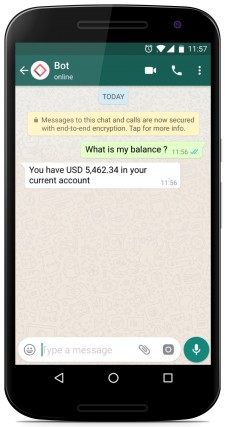 HONG KONG, June 26, 2018 (Newswire.com) - APrivacy, a leading provider of digital security solutions for Financial Services, announced today its new solution, APrivacy Bot on WhatsAppTM, which is poised to transform how banks and insurance companies engage with their customers. APrivacy offers a fully programmable chatbot, or connection with an existing chatbot, providing interactions with customers directly over WhatsApp, the world's most popular messaging service.
Uniquely, APrivacy Bot leverages WhatsApp by providing a personal communication experience for customers within their favourite messaging app without the need to install any other software. Integrated within the APrivacy suite of products, the solution also supports the additional ability for customers to be seamlessly transferred to a secure chat session for more sophisticated transactions, such as placing trades, or full servicing by a human agent. All communications are fully recorded for compliance purposes. APrivacy's in-depth business intelligence analytics further enhances the tailored customer experience.
"APrivacy's mission is to help Financial Services companies enhance the digital experiences they offer. Our new APrivacy Bot on WhatsApp is in line with this approach and extends our offering with a new and convenient way to engage with customers on WhatsApp," says APrivacy Founder and CEO, Dr. Cédric Jeannot.
The fast-growing trend is to move away from portals and apps with static menus and move towards conversational interfaces where customers can immediately ask questions and provide instructions over messaging. People are now used to texting. Most of the time spent on a smartphone is spent on email and messaging platforms. Messaging apps are the platforms of the future, and chatbots are the new tools users will use to access all sorts of services.
Dr. Jeannot further commented, "WhatsApp has over 1.5 billion users and so by leveraging this popular channel Financial Services companies can spread the net far and wide with whom they can do business with."
About APrivacy
APrivacy is an award-winning company which combines military-grade data security with seamless user experience on any platform, any device, anywhere. APrivacy's technology allows the Financial Services industry to confidently communicate with clients using their favourite channels leading to increased revenues and reduced costs while meeting the strictest regulatory requirements.
Learn more about APrivacy: www.aprivacy.com
Media inquiries: media@aprivacy.com
Source: APrivacy
Related Media
Additional Links