Antonio Jauregui, Founder of Legendary Peruvian Rock Band LIBIDO Releases His Soloist Album 'Creciente'
Press Release
•
updated: Sep 29, 2017
The Celebrated Singer, Musician and Composer Premiers Also the Video from New Single "Ya Verás,"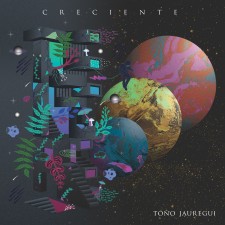 LOS ANGELES, September 29, 2017 (Newswire.com) - One of today's most important composers and musicians and currently on his solo phase, Antonio [Toño] Jauregui presents his most recent musical creation entitled "Creciente", a personal album inspired by intimate situations and experiences that the author has lived in the last years.
The co-founder of the legendary Peruvian rock group Libido, which received major international recognition, comments the following about his debut solo album: "I have returned to my first musical influences, those that characterize my previous compositions, but with a modern sound. This album marks a new and important stage in my career and I feel very satisfied with the final result."
The official album presentation will be at the Teatro Municipal of Lima, Peru on Saturday, Oct. 21st. The song selection will include all the songs from his new album in addition to the classic hits he composed for Libido. After this performance, he will announce his international tour that will include the United States.
Jauregui has had a long successful career as a composer and musician. Since his adolescence with the formation of his first group Libido in Peru, where he musically developed becoming a composer of the band's greatest hits of 6 studio recorded albums that include the group's best-known songs: "No voy a verte más," "Como un perro," "Ojos de ángel," "Tres,", MTV winner, "No será lo mismo sin ti," "Universo," "Nicotina," and "Malvada," among other hits that took the band to their maximum expression and to the highest level of rock in Peru.
After making an international crossover by winning two consecutive MTV Latin awards in the years 2002 and 2003, the group continued recording in the studio with a new drummer and after 2 albums they finally concluded their cycle as a band. Toño then continued on to a new group called Unión Cinema in 2013.
With Unión Cinema, Toño undertook a new artistic phase and recorded the album titled "Sinestesia", presenting an English version as well as another Spanish version, and where the highlighted songs included "Toma el control", "Solo quiero estar," "Mi obsesión por ella," among other relevant singles. Despite their short life as a group, Unión Cinema participated in several important national festivals and were the opening act for the Argentinean band NTVG with more than 30,000 attendees in the Estadio de La Plata.
After that trajectory, today on Sept. 27, Toño Jauregui makes his stage comeback with his debut album titled "Creciente," along with the premiere of the video for his new single "Ya Verás," under the artistic direction of Mauricio Lucena.
Creciente is now available on all digital platforms and will be on sale at record stores in the days to follow.
Source: The Music Joint Entertainment
Related Media